Simple, Stylish, Sensible Sleep Solution. Konny Baby Carrier is ultra-lightweight and hassle-free, designed to look great, alleviates back/shoulder pain and helps babies fall asleep quickly and soundly. Discover how Konny can help your everyday parenting life become more pleasant.

Konny Baby Carrier SUMMER is cool, breathable, and pleasant to your skin, as it is made from a single-layer mesh. It's a perfect and must-have baby carrier for a hot and humid weather.

Hassle-free: Simply wear the Konny Baby Carrier like a T-shirt. No fussy buckles, belts, or wrappings. So light that you even forget that you're wearing it. It only weighs less than half a pound, 160g. Compact enough to slip in your purse. Easy to wash and dry.

Comfortable Parent = Comfortable Baby: It helps alleviate back and shoulder pain by evenly distributing the baby's weight across the user's upper body, minimizing pain in certain pressure points of the body such as the waist, shoulders and back. Elastic, resilient fabric firmly and stably supports the baby to stay relaxed without the need for rocking. It also allows the parent to look stylish with the smart and simple design in a wide variety of colors.

Sensible Sleep Solution: Soft, breathable and finely woven fabric helps babies feel comfortable. No plastic buckle or velcro that can potentially interrupt your baby's sweet dreams. No wonder why it's referred to as the "sleep magic" baby carrier!

Safe and Sound: Meets the Standard Consumer Safety Specification for Sling Carriers (ASTM F2907-15). Approved to help babies develop healthy hip joints by the International Hip Dysplasia Institute. Made of a fabric that meets the KC standard for children's underwear and certified to be free of carcinogens or other harmful substances. Passed additional dynamic and static load testing (from infants to 29kg, 45 pounds).

Full Package: Every Konny Baby Carrier comes with an outer sash, eco-pouch and an intuitive user manual. The outer sash enhances stability when holding your baby. The horizontal sash wraps around the two cross sashes to increase safety. The small pocket in the middle of the outer sash comes in handy for storing useful items such as small towels.
_____
Please read the PRODUCT DETAILS carefully before purchasing.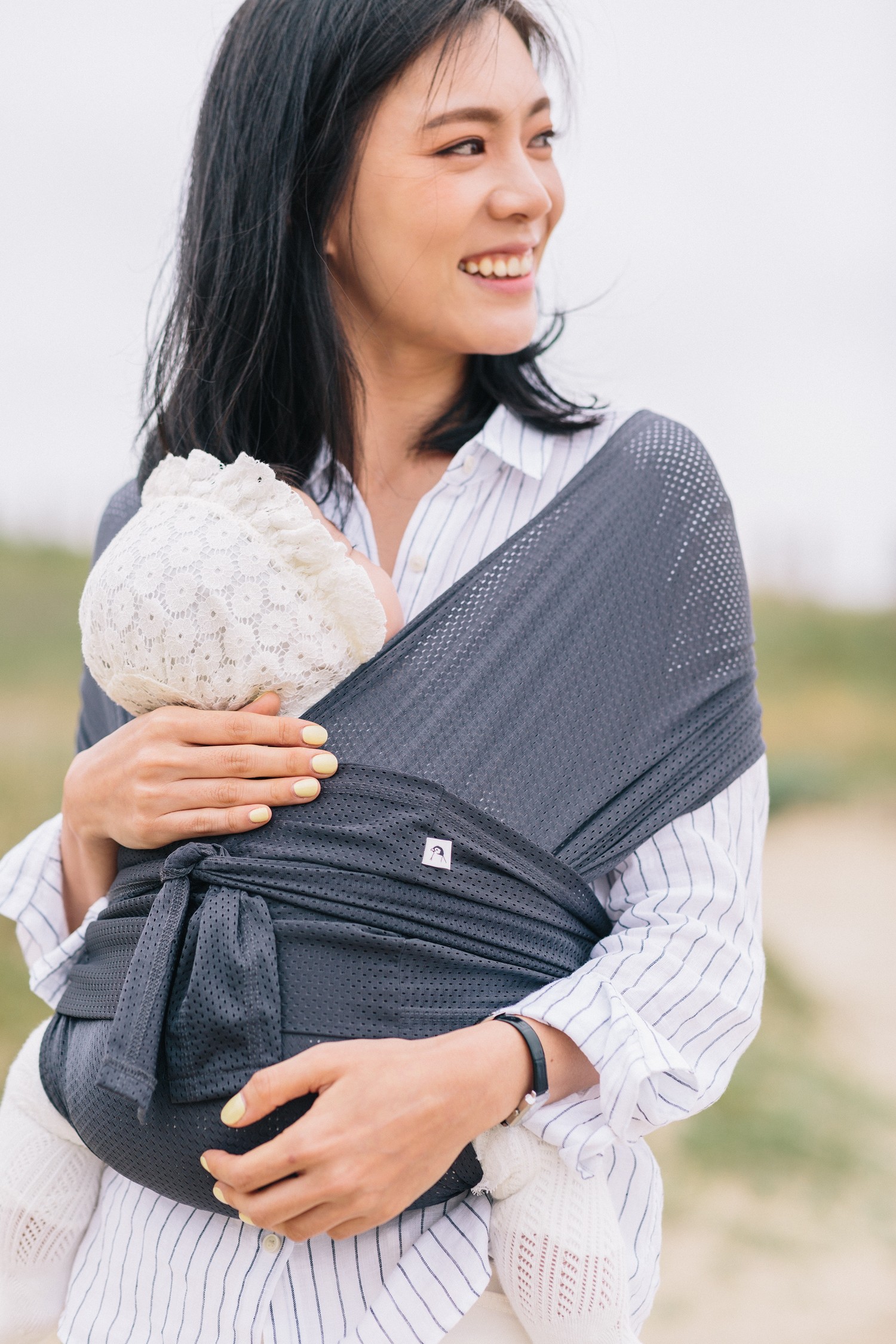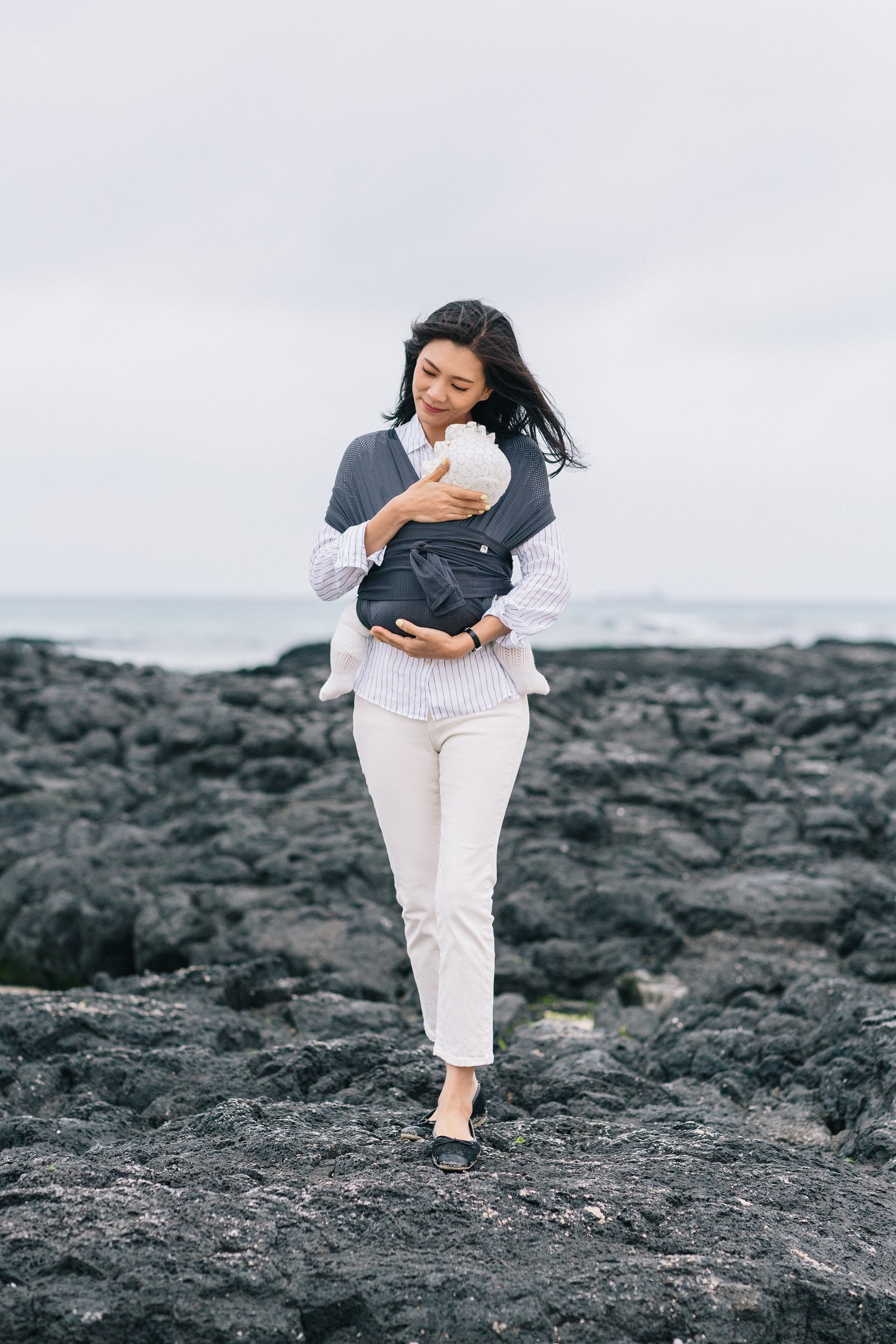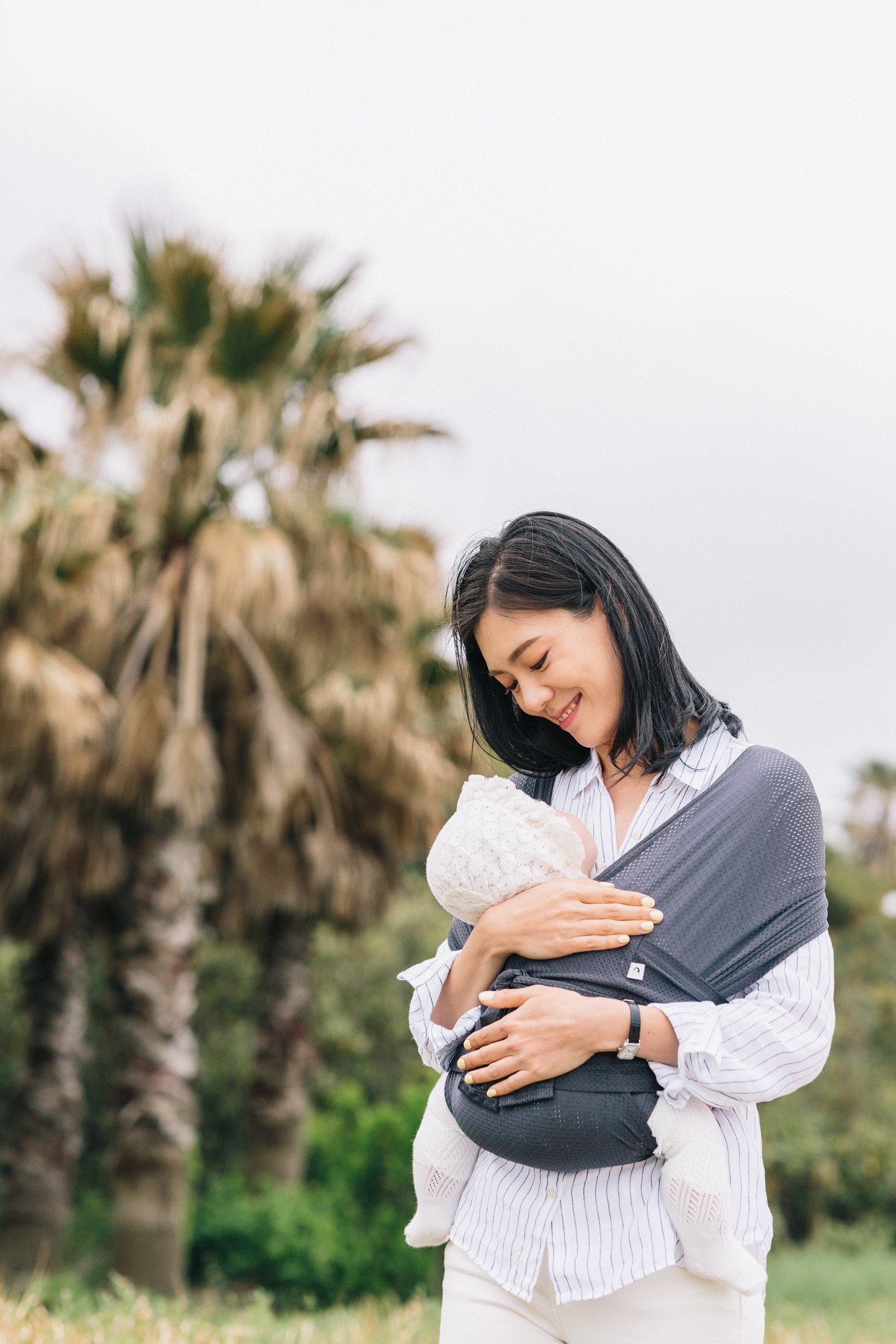 /
Perfect match with any outfit
Konny Baby Carrier Summer
"Charcoal"

Charcoal color matches well with any outfit.

Given that the summer carrier
is made from a mesh fabric,
I thought an ill-chosen color
would make it look like sportswear.

It is not that we always wear casual in the summer.
We carefully picked the color
that would suit well with any dresses or blouses.

Finally, we found a classy charcoal color
that can be worn on linen shirts or dresses.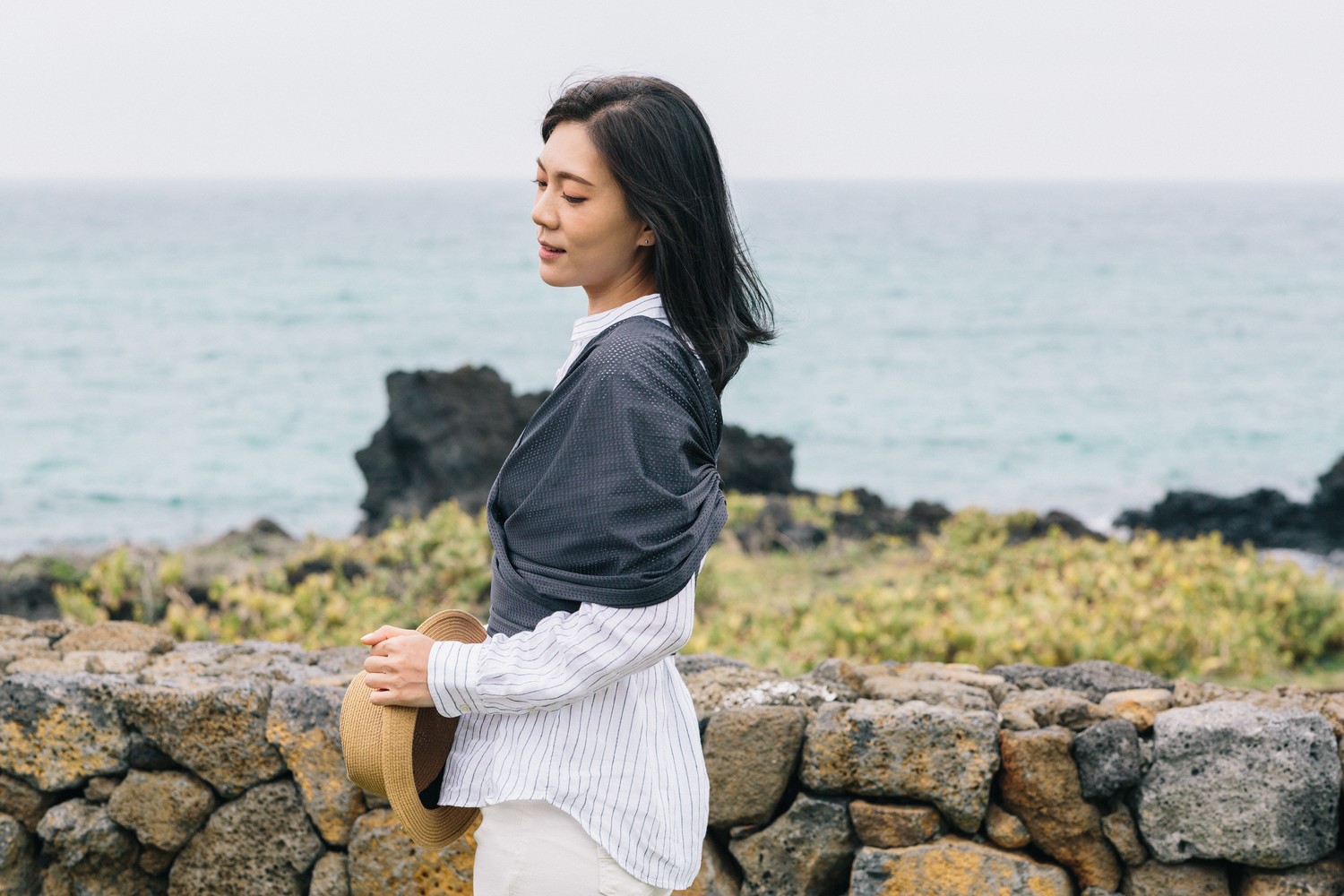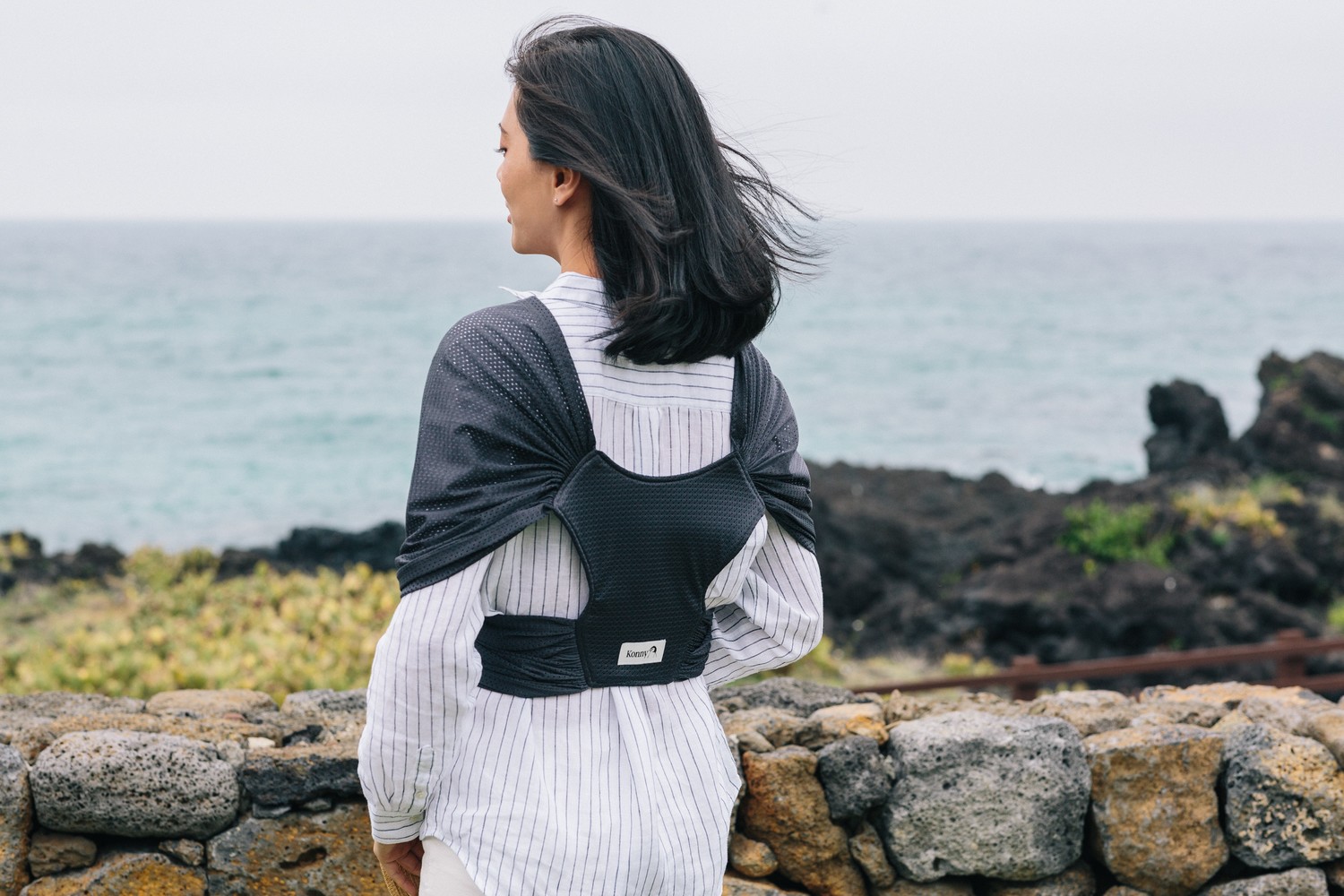 /
Simply draping it will make you look stylish

Given that Konny baby carrier
is needless to be taken off,
I believe one should look fabulous in the carrier
even when not carrying a baby.

So, whenever I do the design,
I always imagine moms and dads
wearing the carrier over their daily outfit.

In that sense, I believe Konny Baby Carrier Summer in Charcoal is the utmost essential for you this summer.

Simply draping it around you will make you look stylish.
You will not be ashamed of how you look in the accidentally taken picture of you.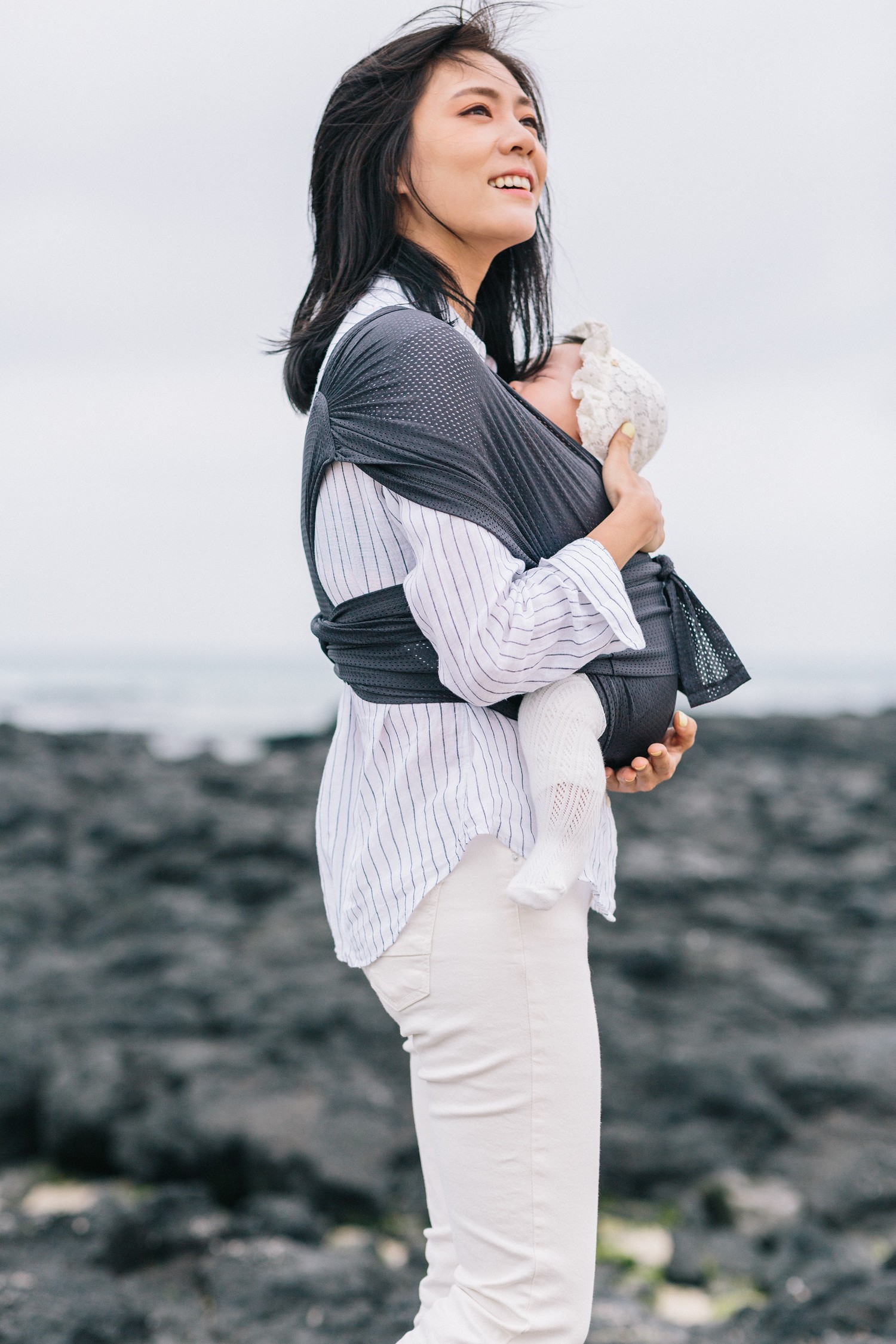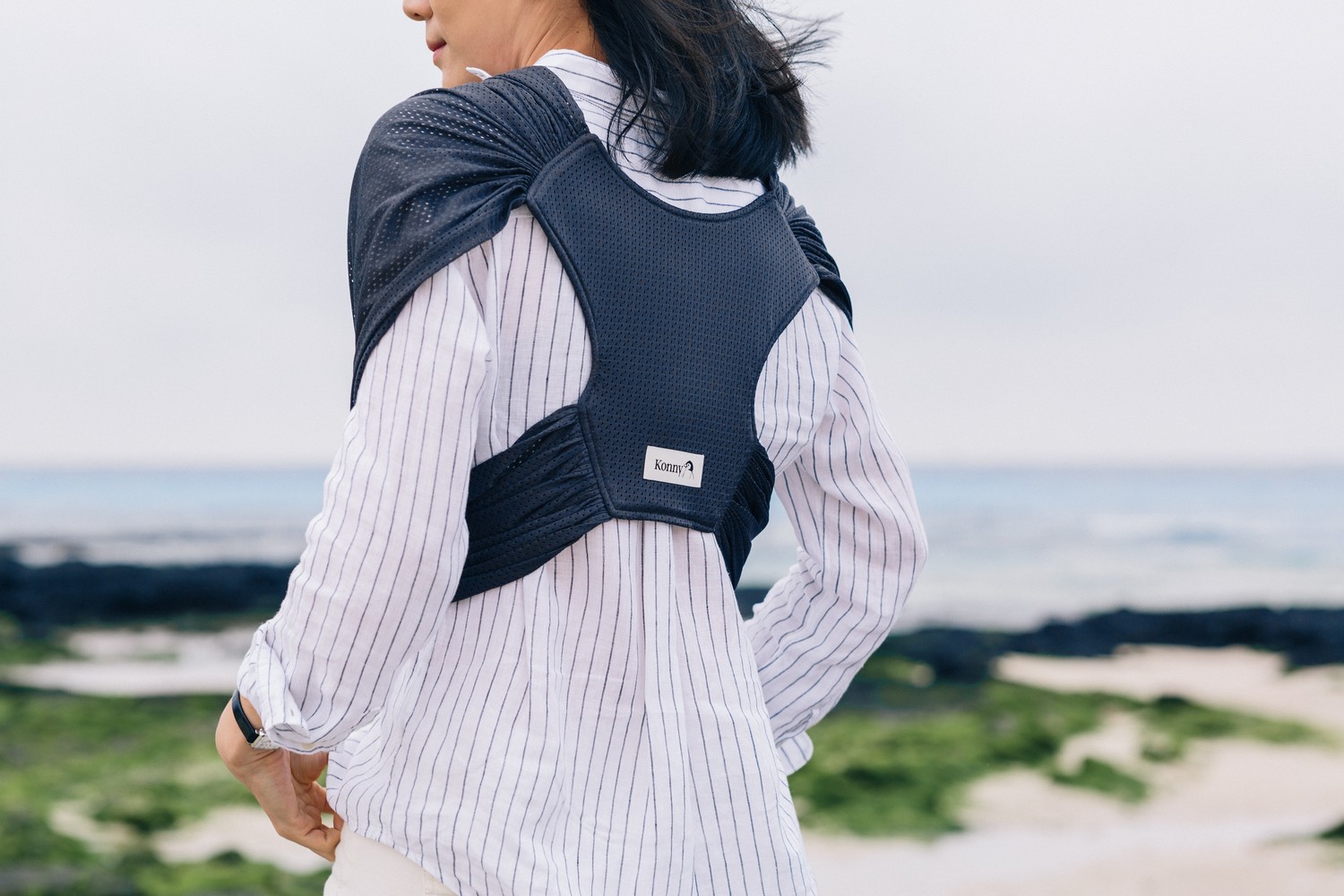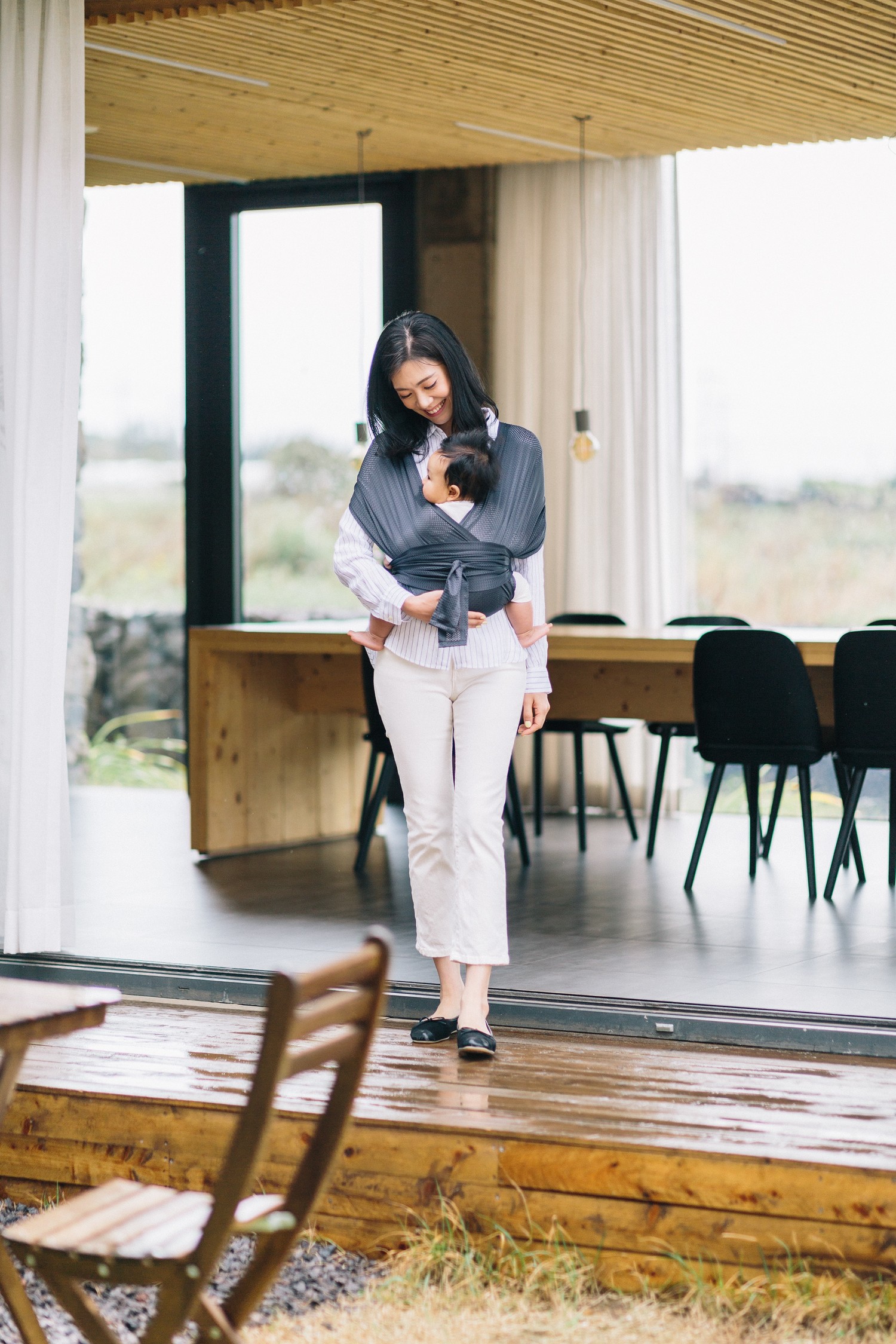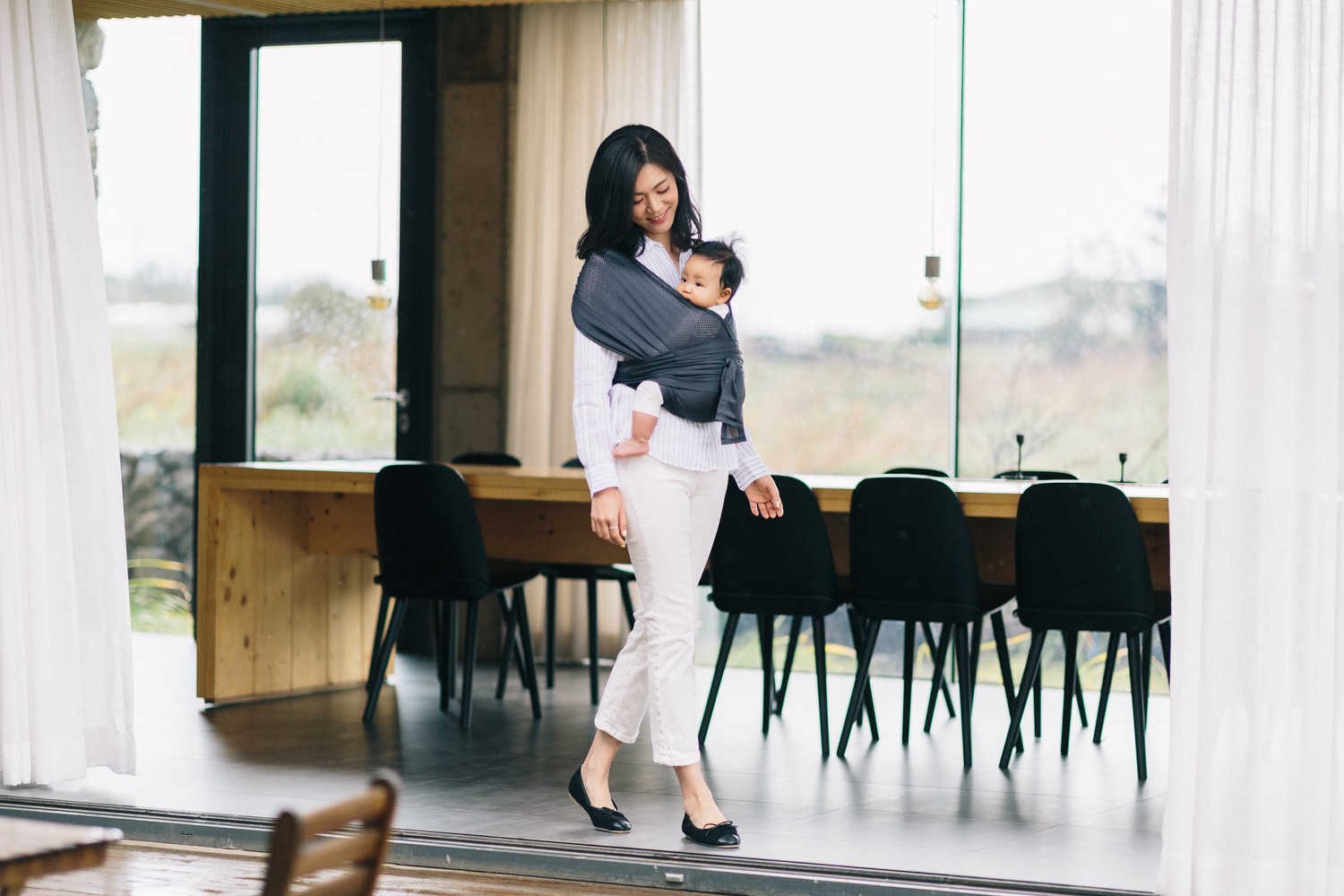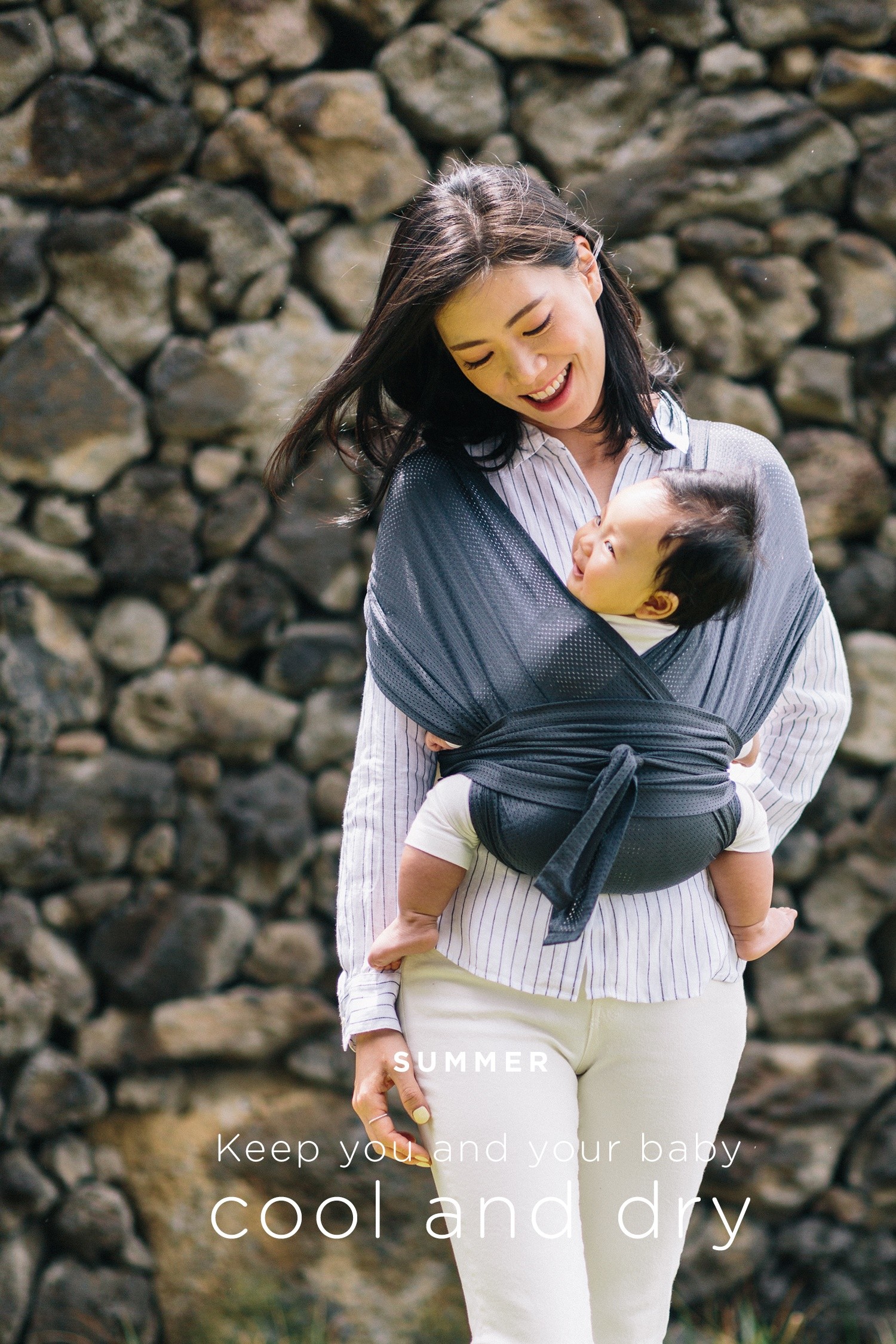 I hope every moment
you share with your baby this summer
becomes more pleasant.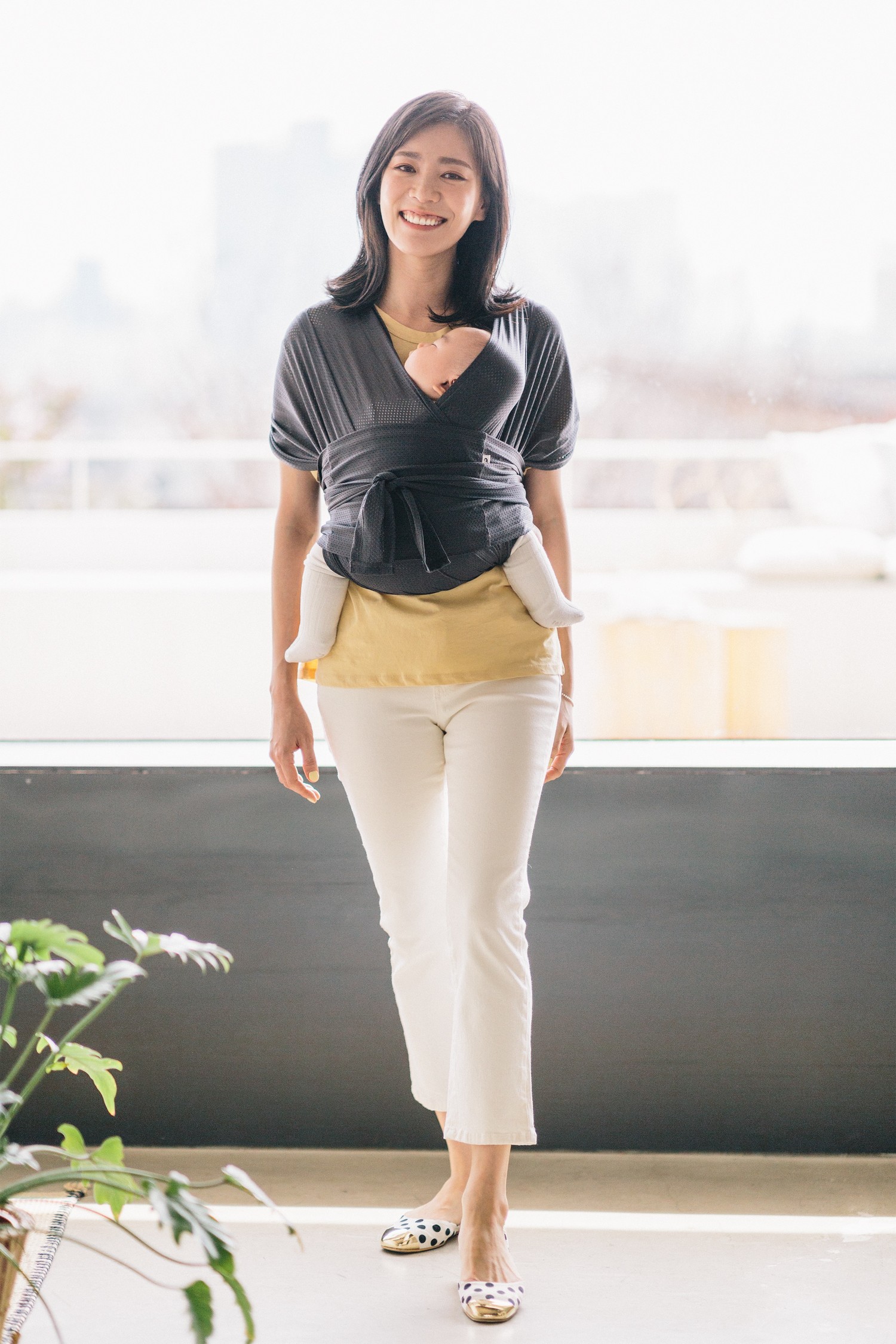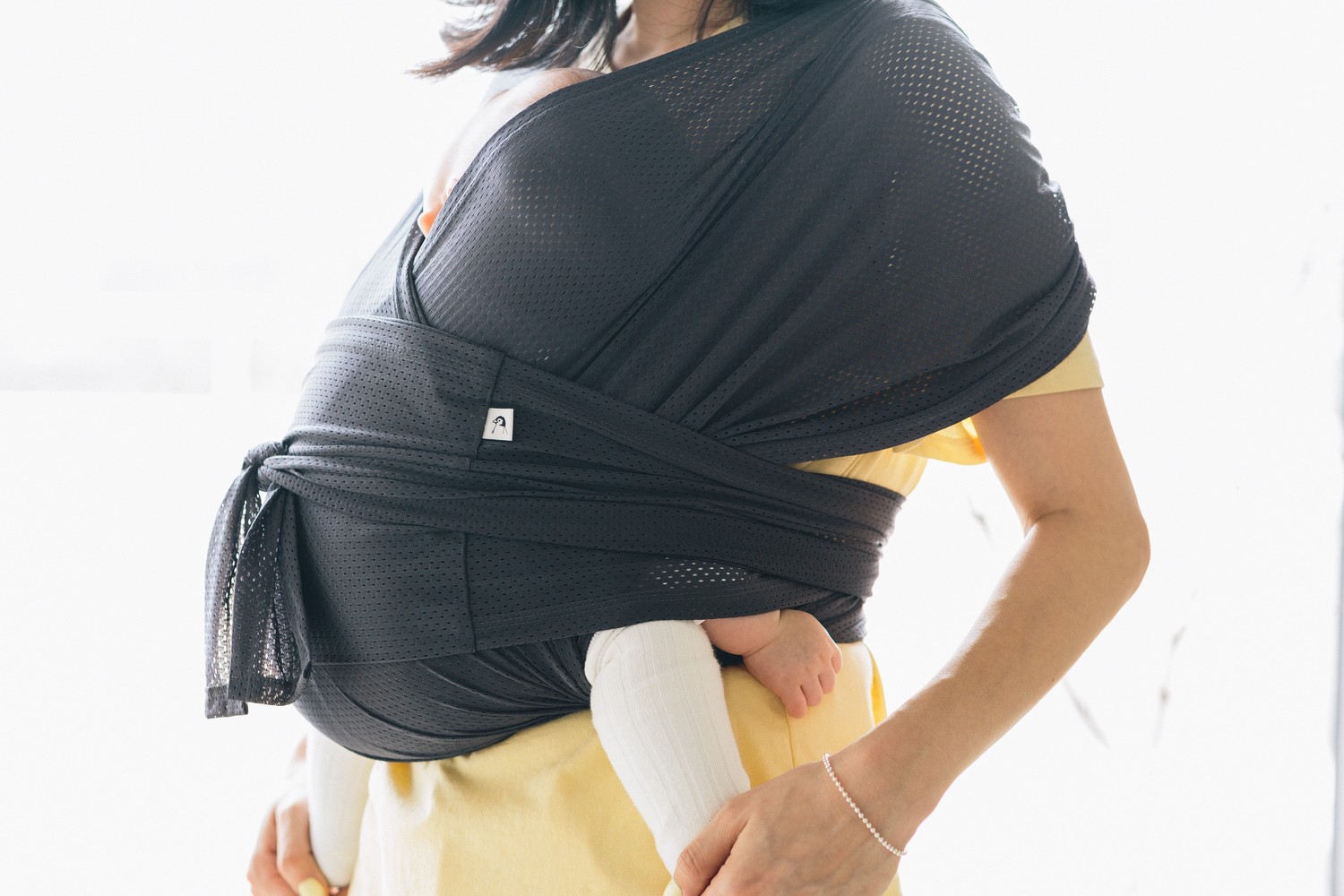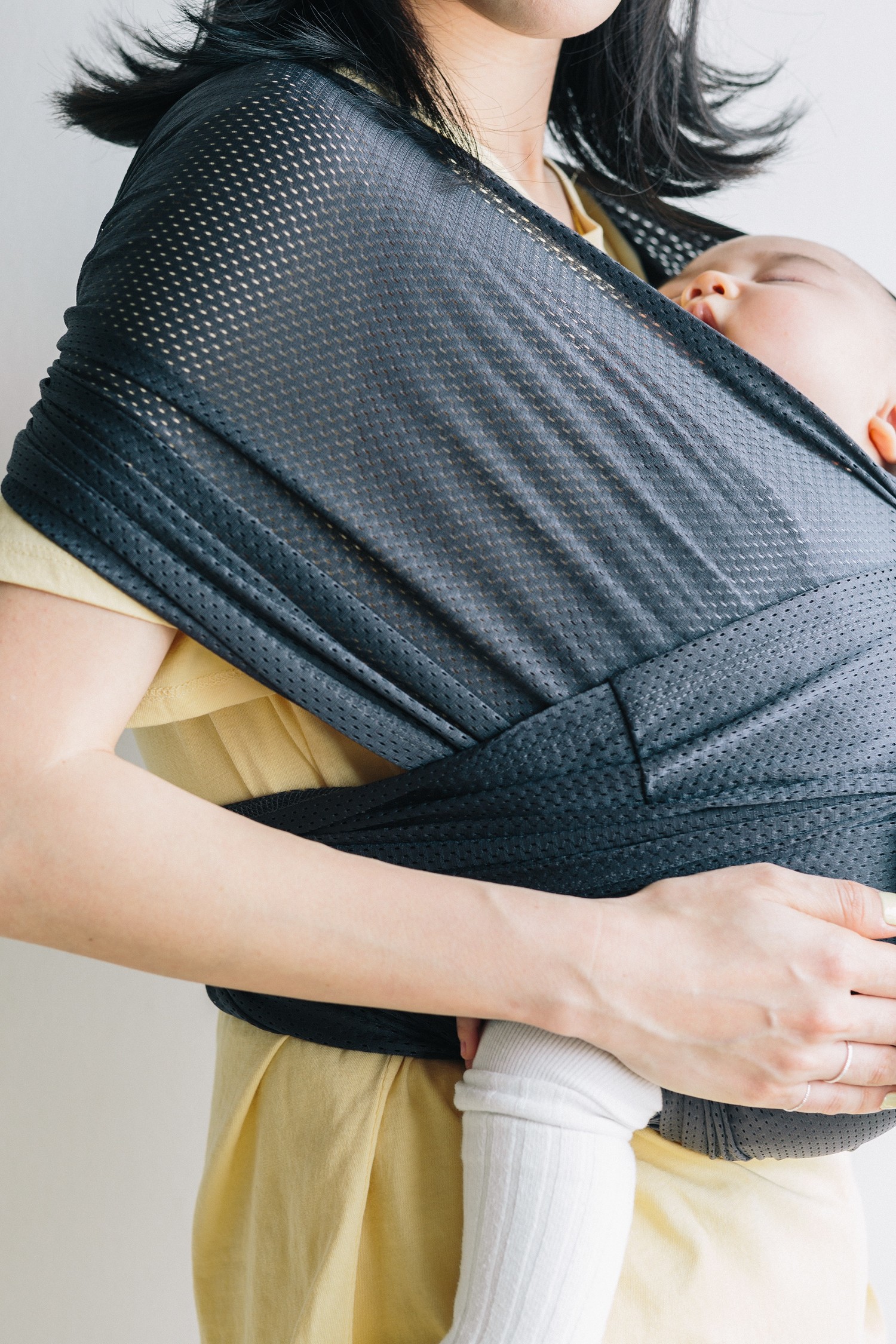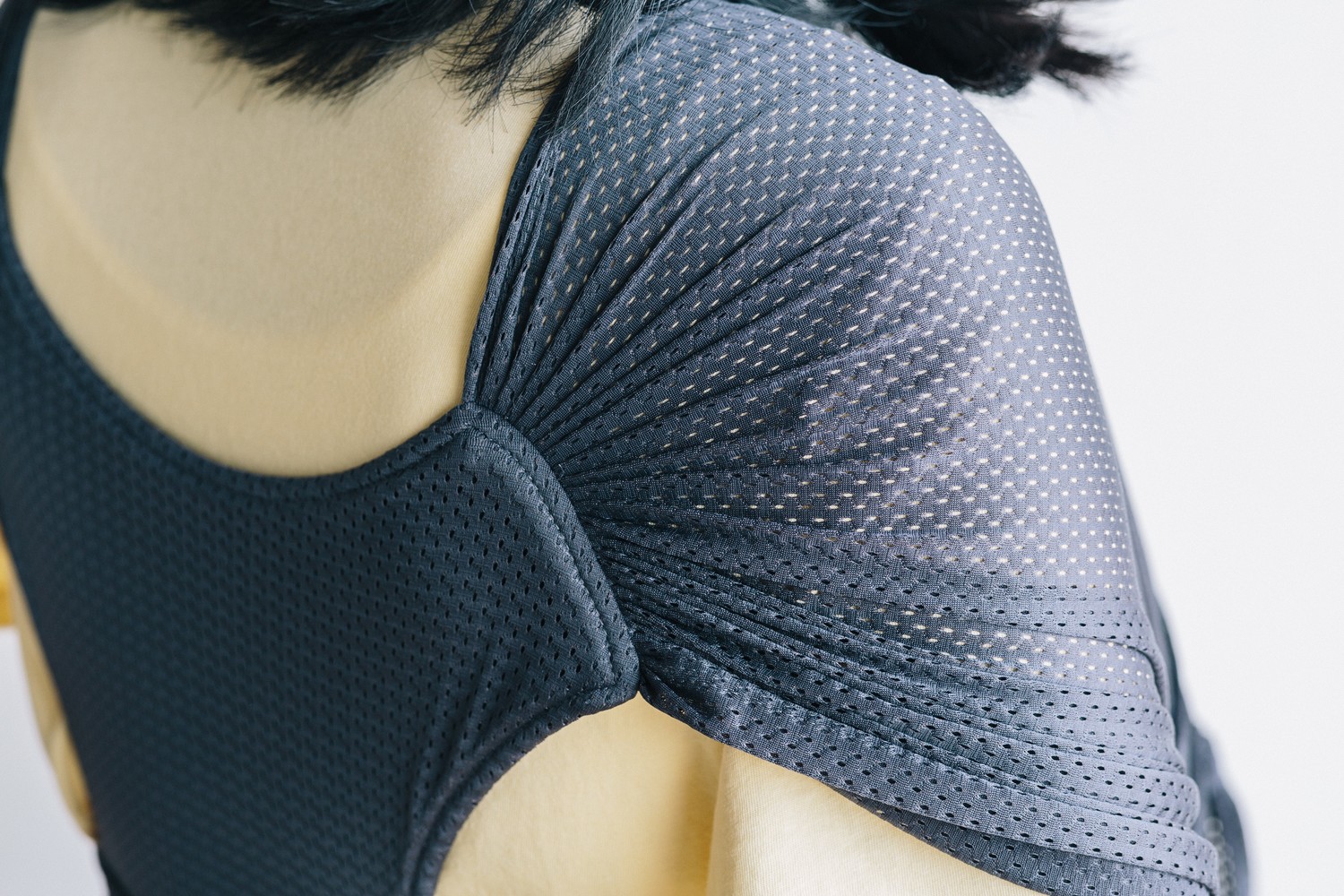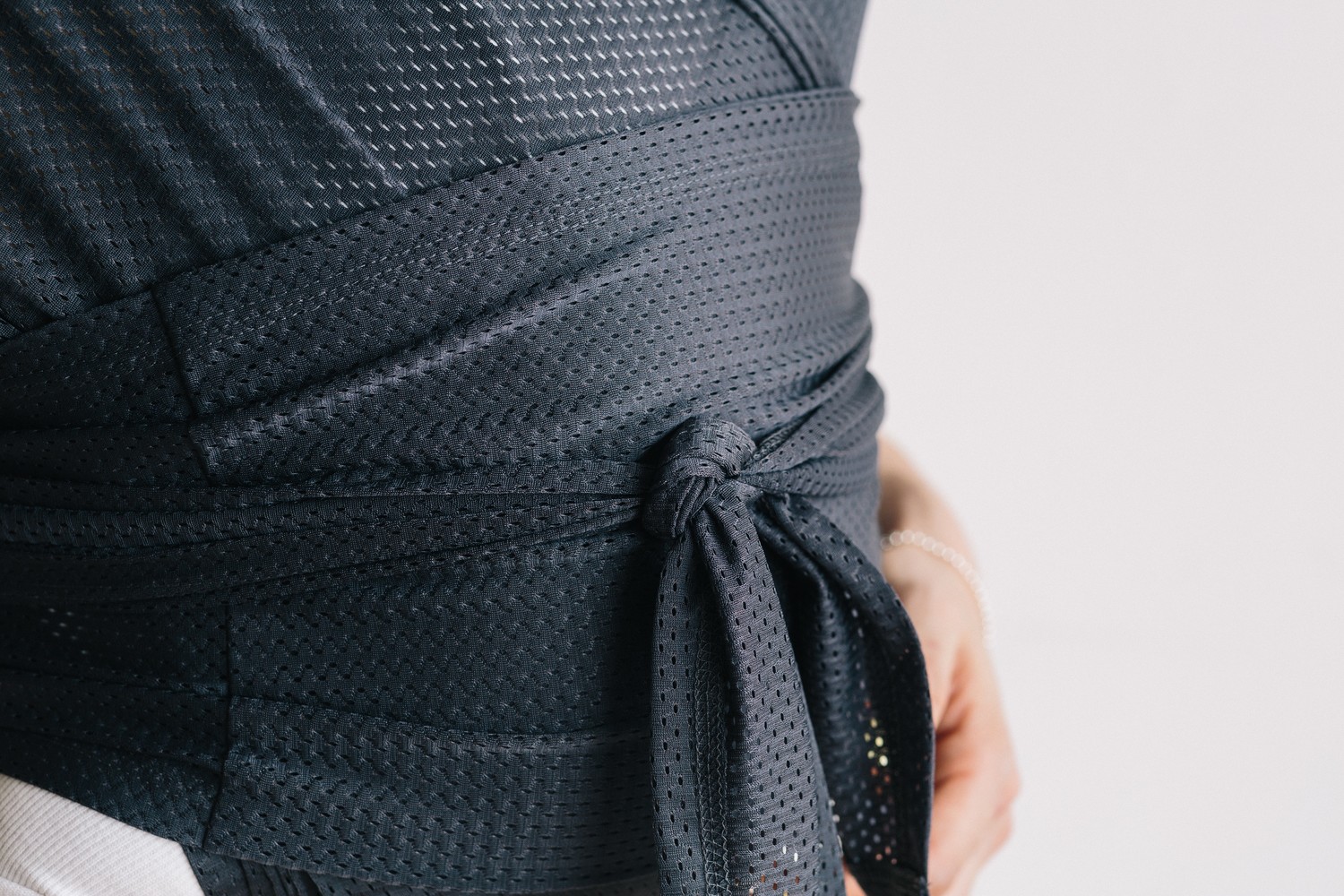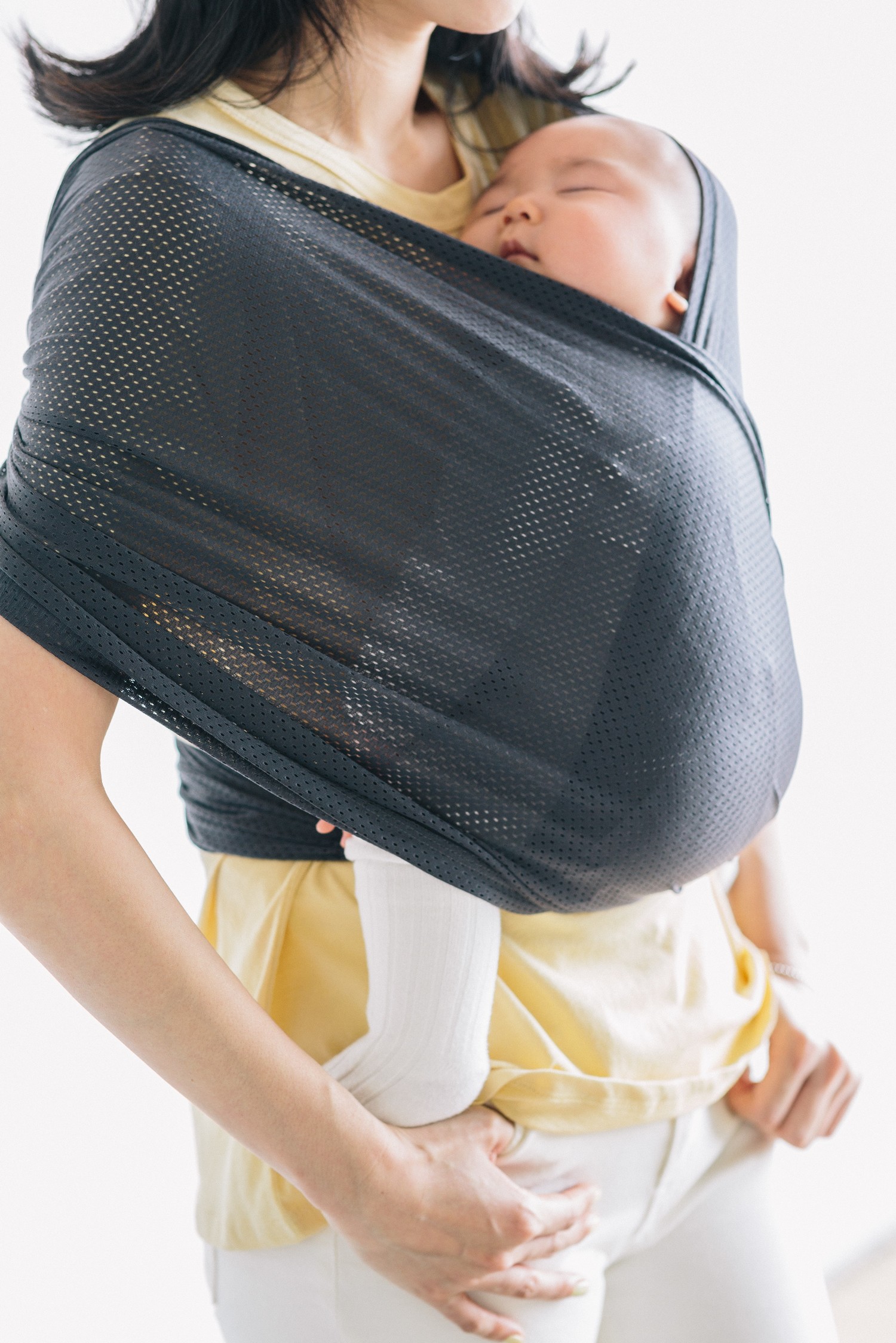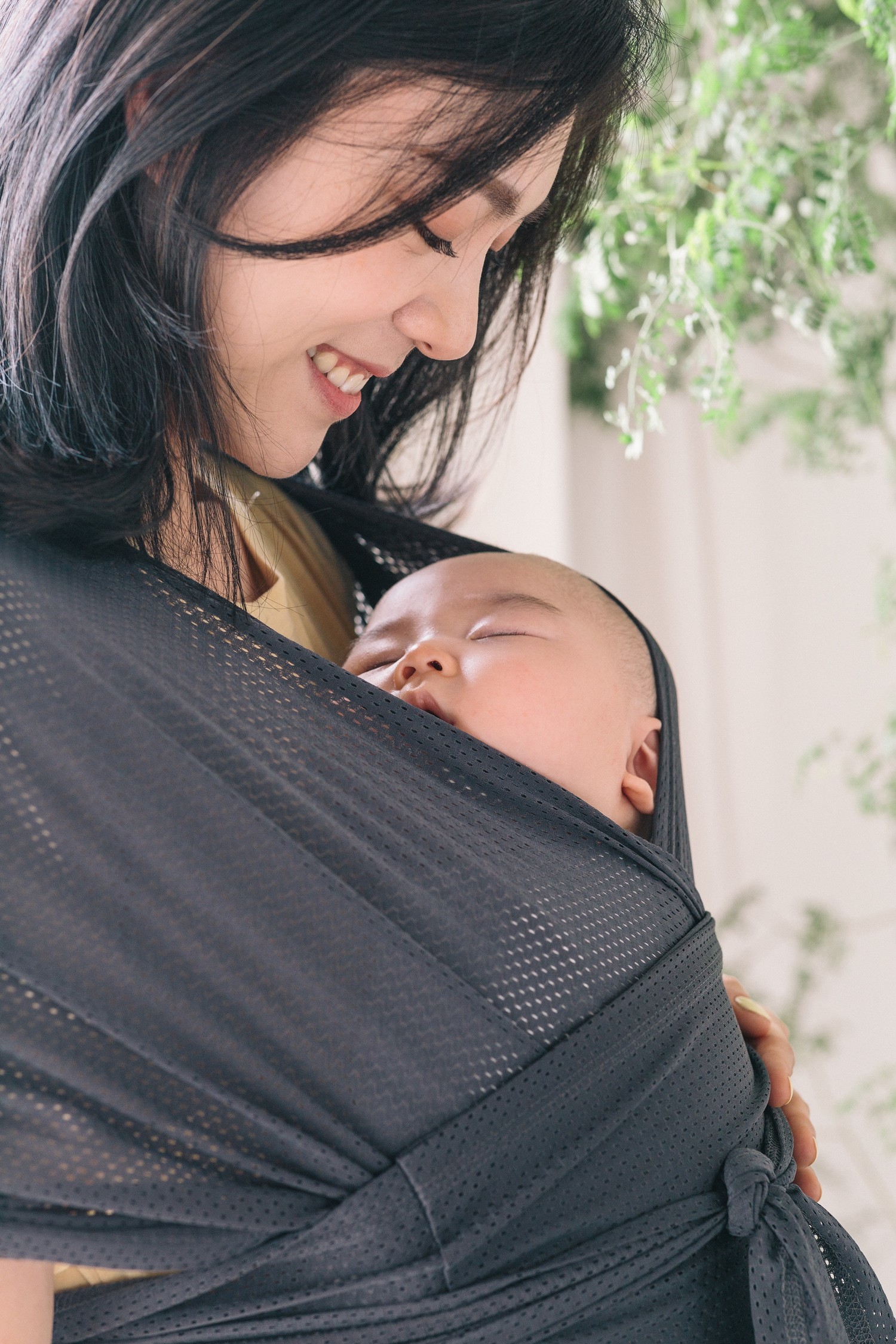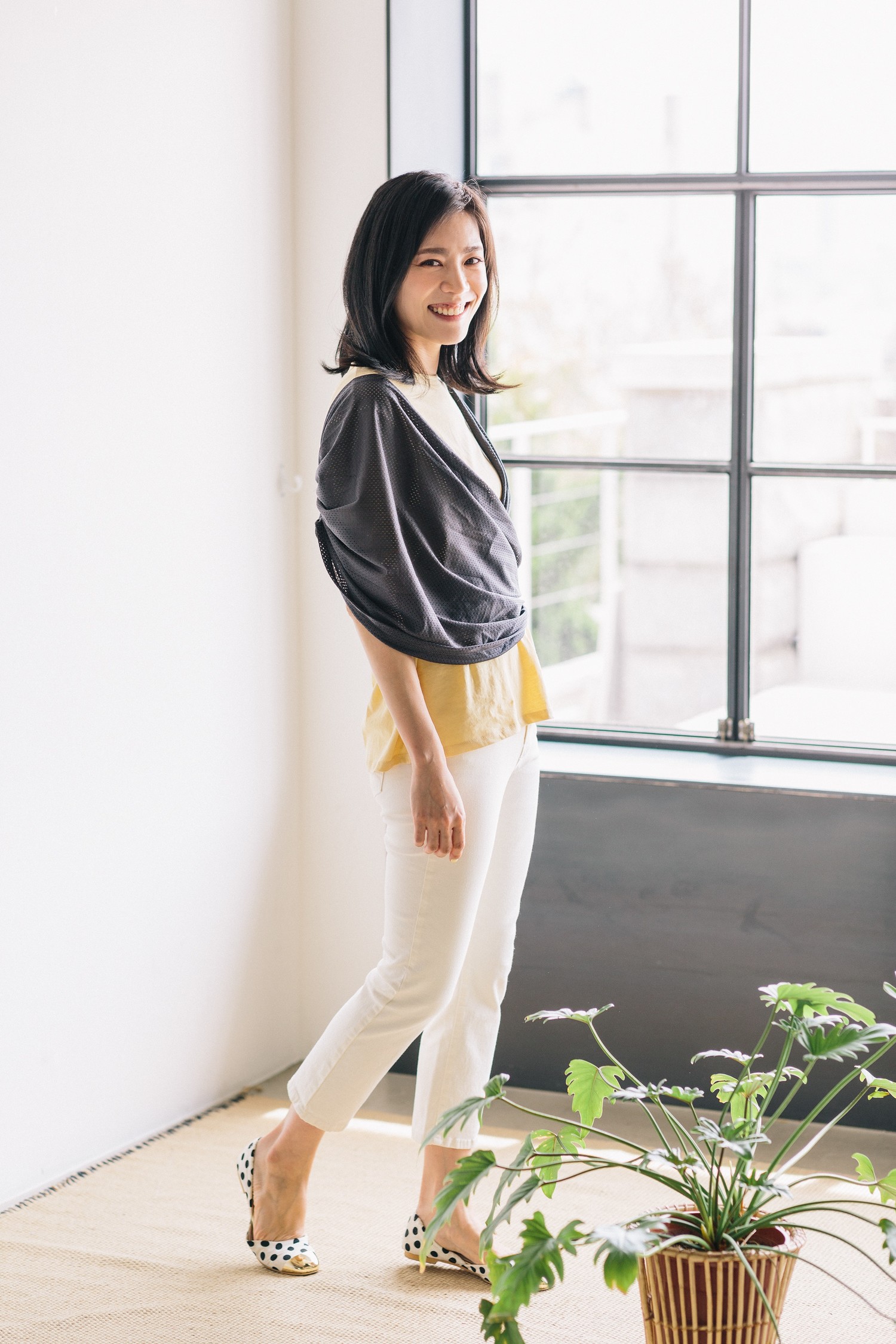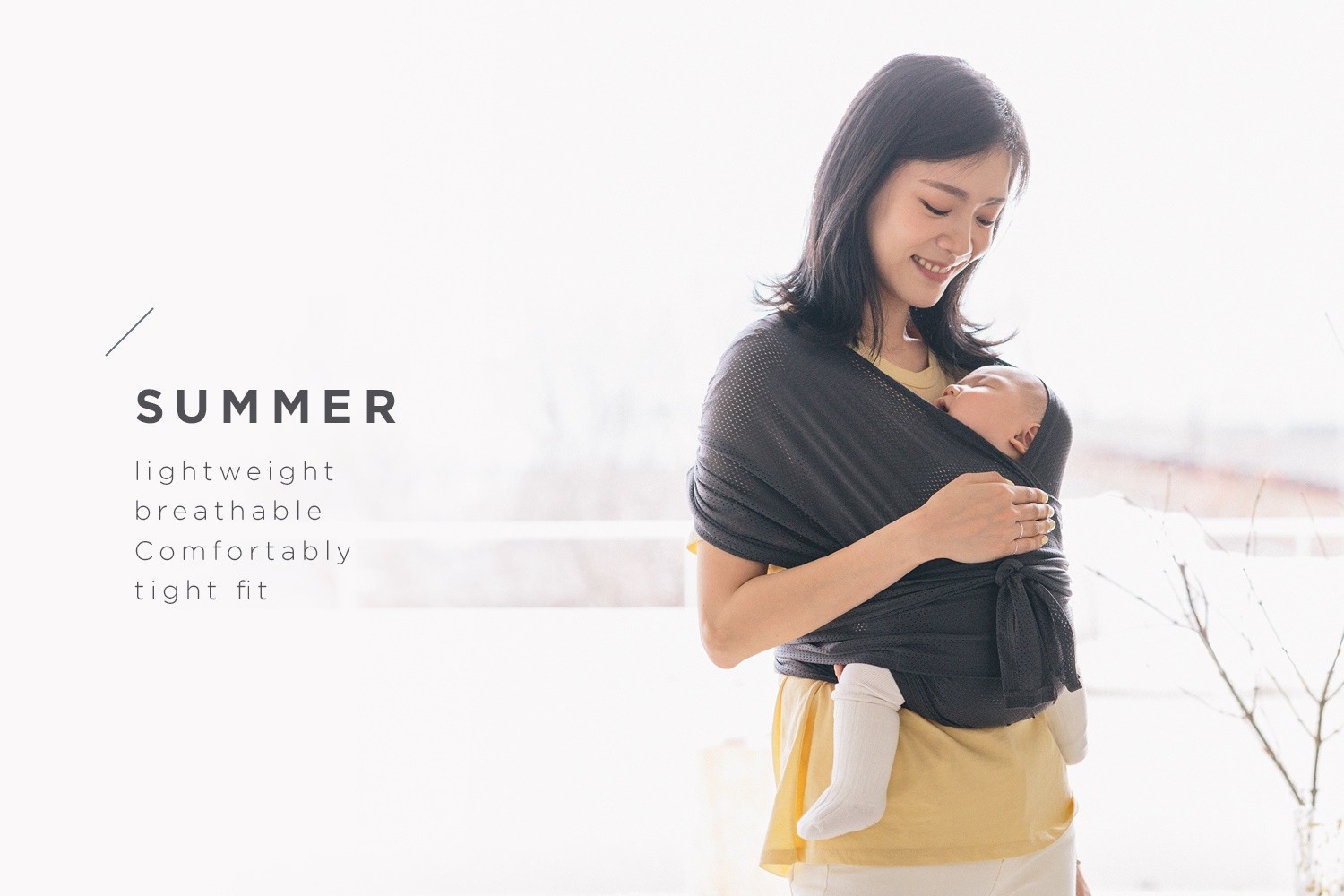 Shipment date is the next business day following the order date. Please be advised that orders placed on Fridays or before national holidays may require a few additional days before shipping. Kindly note that Konny operates based on KST, UTC+9.

※National Holidays in 2020: 1/24, 1/27, 4/15, 4/30, 5/1, 5/5, 9/30, 10/1, 10/2, 10/9, 12/25
---
Shipping Methods
Our primary courier is DHL which offers fast and trustworthy shipping services. It generally takes two to four business days for your order to be delivered.
Economy shipping takes ten to fifteen business days and it is available for the following countries;
Hong Kong, Indonesia, Malaysia, Philippines, Singapore, Taiwan, Thailand, the US, Vietnam
---
Order Tracking
Once your order has shipped, you will receive a confirmation e-mail with a tracking number. You can check the delivery status by entering the provided tracking number on the delivery couriers' websites.
---
Import Duties & Taxes
Orders shipped outside of Korea may be subject to import taxes, customs duties and fees levied by the destination country. Additional charges for customs clearance must be fulfilled by the recipient; Konny by Erin, Inc. has no control over these charges, nor can Konny by Erin predict what they may be.
Customs policies vary widely from country to country; you should contact your local customs office for more information. When customs clearance procedures are required, it can cause delays beyond our original delivery estimates.
Terms and conditions
All refunds and exchanges must be requested within 30 days. There are no additional fees for a return. However, customers have the financial responsibility for returns coming back to us. The shipping fee you paid for your order will not be refunded since the delivery service has been completed by the courier. For defective products, we will make a full refund.
Refunds will not be made in the following cases:
・Missing components (the baby carrier, outer sash, and eco-pouch)
・Worn, altered, or washed products
・Contaminated products
・Impurities like dusts found on the products
・Products in an unsellable condition
・NOTE! Returns that do not meet our requirements may be accepted at the discretion of Konny by Erin, Inc. and subject to a $10 return fee.
---
Special offer for an exchange order
If the carrier you purchased does not fit you correctly, do not hesitate to contact us. We offer free shipping to those who participate in a brief survey on sizing. Find us at the right bottom of this page.
NOTE! Customers have the financial responsibility for returns coming back to us.
---
How to initiate a return or exchange?
If you want to return your order, please follow the steps below. If you want to exchange, you will need to return the original product and place a new order.
Step 1. Fill out the return form here. (click!)
Step 2. Prepare the box for shipping.
Step 3. Ship your package using a trackable, insured shipping method. Konny by Erin, Inc. cannot accept responsibility for packages we do not ship. Please keep the tracking details for your records. 
You will receive an e-mail once your return has been processed. Please allow 5 business days from the time we receive your return for it to be processed.
---
Where do I send my return?
Please send your return to:
US and Canada
Address: 
7004 VAUGHN ROAD,
MONTGOMERY AL, USA
Postal Code: 36116
Name: Konny Returns
Tel: 334-730-5055
All other countries
Address: 
127 Jangmyeongsan-gil, 
Paju-si, Gyeonggi-do,
South Korea
Postal Code: 10864
Name: Konny Returns
Tel: 070-7864-0917 
---
Which courier should I use?
Customers have the financial responsibility for returns coming back to us. We strongly recommend using a traceable, insured shipping method in case of delay or loss. Please keep the tracking details for your records. 
---
When will I receive my refund?
The refund will be processed after your return passes inspection once arriving at our logistics center. Please allow up to five business days for the transaction to be reflected in your account. Refunds generally appear as credit amounts on the statement.
Real sleep magic!
Falling asleep has always been a challenge with my lil one as he never fails to wake up once we place him in his crib. When i saw the advertisement on konny carrier, I wanted to give it a try and guess how many I ended up getting? 2! One in L size and the another in M size for my relatives' use(because they love it too!) So there was this one time the lil one was super cranky and I was on the verge of giving up...until my sister came along and carried him in the Konny carrier and guess what? He fell asleep on her chest and they ended up falling asleep on the bed(with the lil one still on her chest)!
Height (cm or ft):
5 ft 9 in
Amazing, comfortable, easy
I'm in love with this wrap carrier, and wish I would have had it for my first two children! I love the feel and comfort of a wrap, and have worn two popular brands prior to getting the Konny. The Konny is so simple to put on, and baby loves it! I love the summer fabric for warm weather use. It helps to keep me and baby cool while also keeping us close. I no longer have to wrestle yards of fabric for a great wrap. Every mama needs a Konny!
Height (cm or ft):
5ft 2in
Wonderful customer service
I originally ordered a Medium in the charcoal (summer) carrier. It was a bit too tight, so I contacted customer service and they were able to help me with the return and exchange process in a quick manner. Amazing product that my baby loves, backed up amazing service!
Great for around the home and out and about.
My Konny is working out really well, especially now that everyone is isolating due to Covid19 and I don't get the relief of friends and family helping out. Therefore, it's great to have my Konny to carry our little boy in and help keep back pain away when he is being fussy and just wants to be held all day. It's also great for when you are out and about, especially to places where prams are awkward, like the beach.
Following the size guide I got a M. Like the instructions say, it's snug to start with, but wasn't too snug for our newborn. The first few tries putting him in were a bit hard and often resulted with the back panel off centre. But it didn't take long to get it right and even easier now that he's big enough for his legs to be out.
Everyday Wrap
I did lots of research before purchasing a wrap and the Konny ticked all my boxes, easy to use, easy to clean, easy to store and easily able to go about my normal life. At the start I thought it wasn't the right fit but after some practice I found it was perfect. I followed the size guide on the website:)
Size is not right
I've only managed to try it on now after receiving it since feb. The sizing guidance wasn't the right fit, a bit too tight.
Pre pregnancy weight 60kg
Height 159cm
Recommended m and I bought m
But it was really too tight.
Konny Size: M
Height (cm or ft): 159cm
Weight (kg or lbs): 60kg
Simple, light weight, and fashionable carrier
I purchased Konny Summer black color with the size XXS. I thought it was too small but then i asked some questions related to my sizing to the Konny CS, and they were very responsive and helpful. They gave me some tips to get the carrier more stratchy and it amazingly works. I fell in love with Konny since before my baby born. Now he is 2 months old cute little baby and he still loves being wrapped in Konny.
Economical purchase
I had bought the size S in charcoal from a reseller and it couldn't fit my baby initially. Thereafter I purchased a M size directly from Konny website and decided to go for cream. Received the item in less than a week. Tried it on my baby and seems that she enjoys it! I love how the carrier isn't bulky and it's lightweight. The mesh material is also very comfortable and suitable for SG. Cream looks way prettier than charcoal too! Although I had only tried once, baby seems to snug well inside and she falls asleep relatively quickly. Just that, slipping baby into the carrier can be difficult, but that could be due to me being new to the carrier. Can't wait to use and bring baby out with it!
Just for reference, I'm 167cm & 52kg pre-pregnancy, bra cup size is B and depending on brands I can fit clothes ranging from size 6 to 10 and per Konny website, the recommended size to purchase would size S. But post pregnancy I'm at 57kg and bra cup size increased to C. Therefore I ended up re-buying a bigger size.
Great Product, Recommended to purchase
As a first time mum, I tried other big brand name carriers through other's recommendation. However, baby was not comfortable and would cry when placed in the carrier. Also, there were so many clips and adjustment that it makes it cumbersome to use when I am alone.
I came across an advertisement for Konny and was sceptical at first at the promise that it will make baby sleep and it's security despite having no clips.
I bought the summer cream version to test and I am delighted to share that not only is it easy to slip baby in when alone, baby also sleeps almost immediately when placed in it. The mesh material for summer version is also very comfortable for both baby and mummy as it is of breathable material. Also, as it frees my hands, I am able to carry his diaper bag with one hand and purchase other stuff with my other hand.
Would recommend all mummies to purchase this product as it is a lifesaver when you find yourself alone with baby.