Simple, Stylish, Sensible Sleep Solution. Konny Baby Carrier is ultra-lightweight and hassle-free, designed to look great, alleviates back/shoulder pain and helps babies fall asleep quickly and soundly. Discover how Konny can help your everyday parenting life become more pleasant.

Konny Baby Carrier SUMMER is cool, breathable, and pleasant to your skin, as it is made from a single-layer mesh. It's a perfect and must-have baby carrier for a hot and humid weather.

Hassle-free: Simply wear the Konny Baby Carrier like a T-shirt. No fussy buckles, belts, or wrappings. So light that you even forget that you're wearing it. It only weighs less than half a pound, 160g. Compact enough to slip in your purse. Easy to wash and dry.

Comfortable Parent = Comfortable Baby: It helps alleviate back and shoulder pain by evenly distributing the baby's weight across the user's upper body, minimizing pain in certain pressure points of the body such as the waist, shoulders and back. Elastic, resilient fabric firmly and stably supports the baby to stay relaxed without the need for rocking. It also allows the parent to look stylish with the smart and simple design in a wide variety of colors.

Sensible Sleep Solution: Soft, breathable and finely woven fabric helps babies feel comfortable. No plastic buckle or velcro that can potentially interrupt your baby's sweet dreams. No wonder why it's referred to as the "sleep magic" baby carrier!

Safe and Sound: Meets the Standard Consumer Safety Specification for Sling Carriers (ASTM F2907-15). Approved to help babies develop healthy hip joints by the International Hip Dysplasia Institute. Made of a fabric that meets the KC standard for children's underwear and certified to be free of carcinogens or other harmful substances. Passed additional dynamic and static load testing (from infants to 29kg, 45 pounds).

Full Package: Every Konny Baby Carrier comes with an outer sash, eco-pouch and an intuitive user manual. The outer sash enhances stability when holding your baby. The horizontal sash wraps around the two cross sashes to increase safety. The small pocket in the middle of the outer sash comes in handy for storing useful items such as small towels.
_____
Please read the PRODUCT DETAILS carefully before purchasing.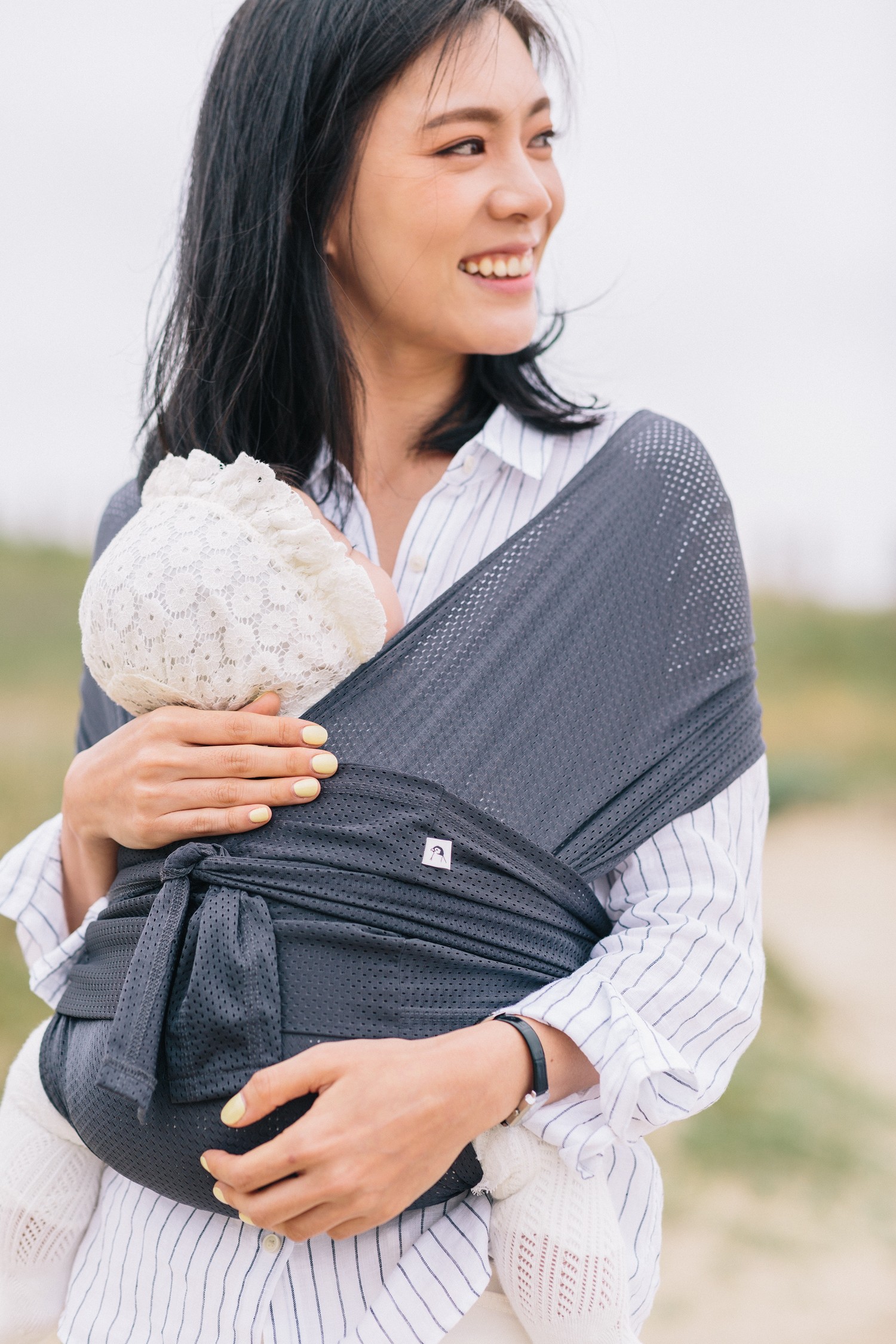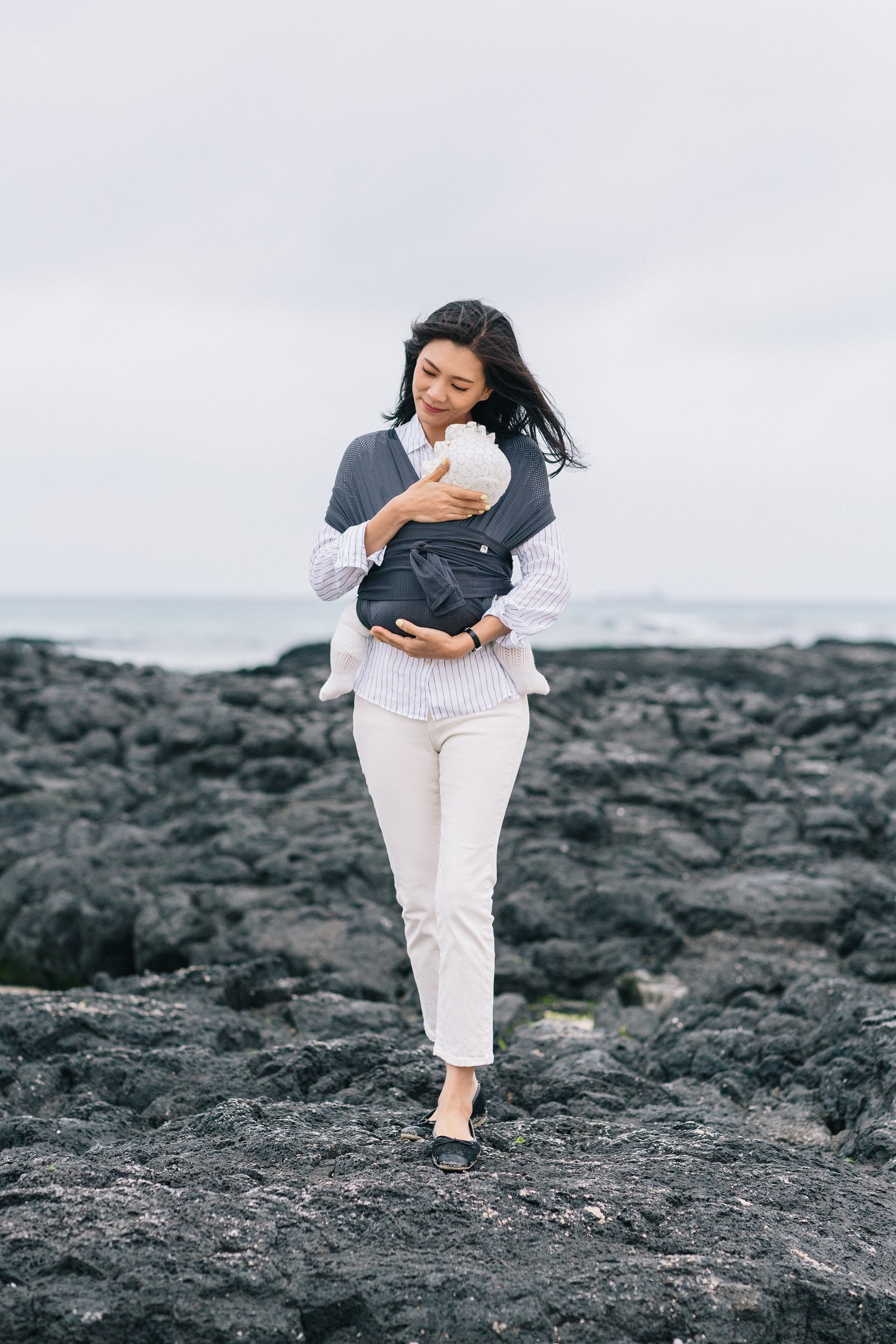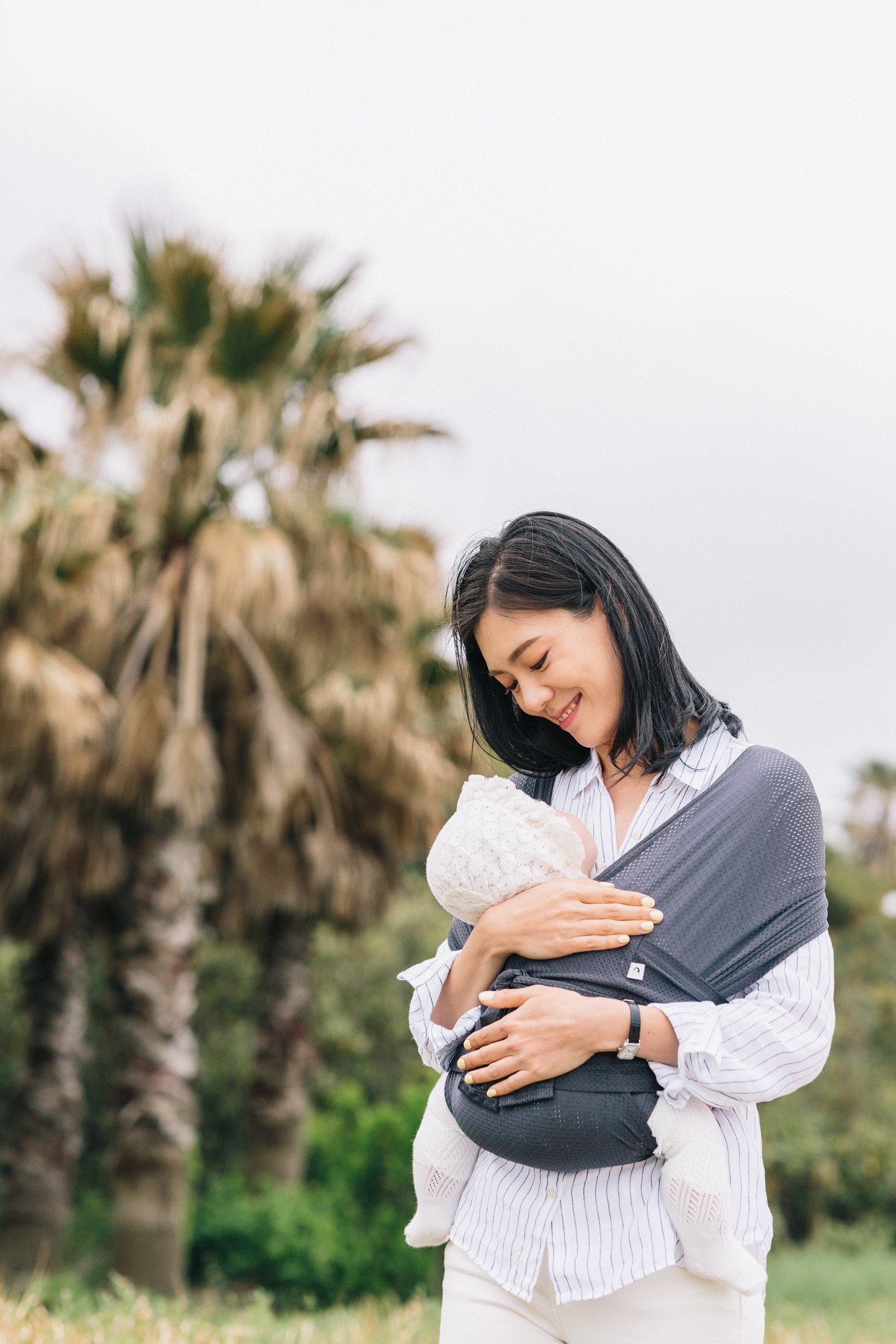 /
Perfect match with any outfit
Konny Baby Carrier Summer
"Charcoal"

Charcoal color matches well with any outfit.

Given that the summer carrier
is made from a mesh fabric,
I thought an ill-chosen color
would make it look like sportswear.

It is not that we always wear casual in the summer.
We carefully picked the color
that would suit well with any dresses or blouses.

Finally, we found a classy charcoal color
that can be worn on linen shirts or dresses.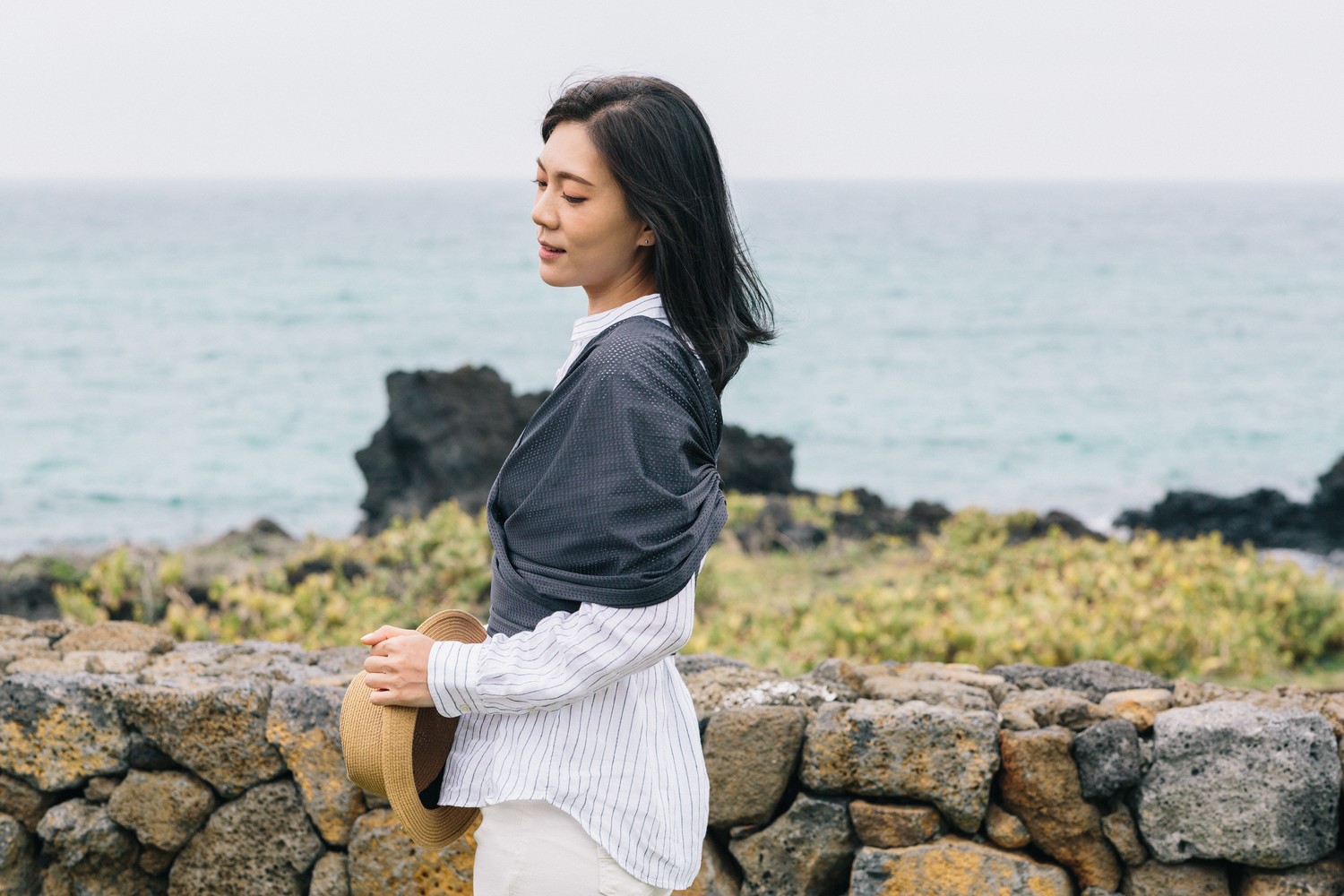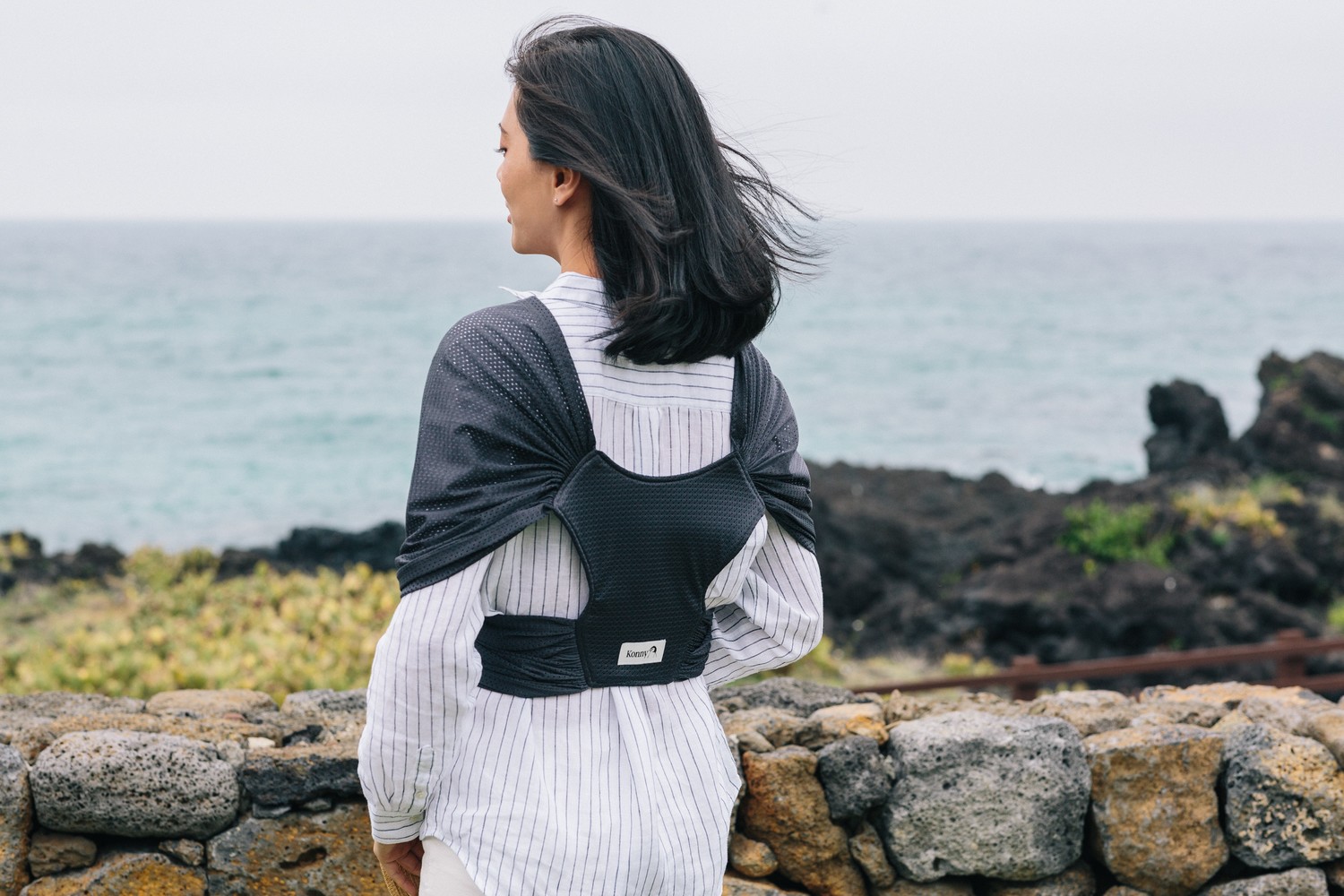 /
Simply draping it will make you look stylish

Given that Konny baby carrier
is needless to be taken off,
I believe one should look fabulous in the carrier
even when not carrying a baby.

So, whenever I do the design,
I always imagine moms and dads
wearing the carrier over their daily outfit.

In that sense, I believe Konny Baby Carrier Summer in Charcoal is the utmost essential for you this summer.

Simply draping it around you will make you look stylish.
You will not be ashamed of how you look in the accidentally taken picture of you.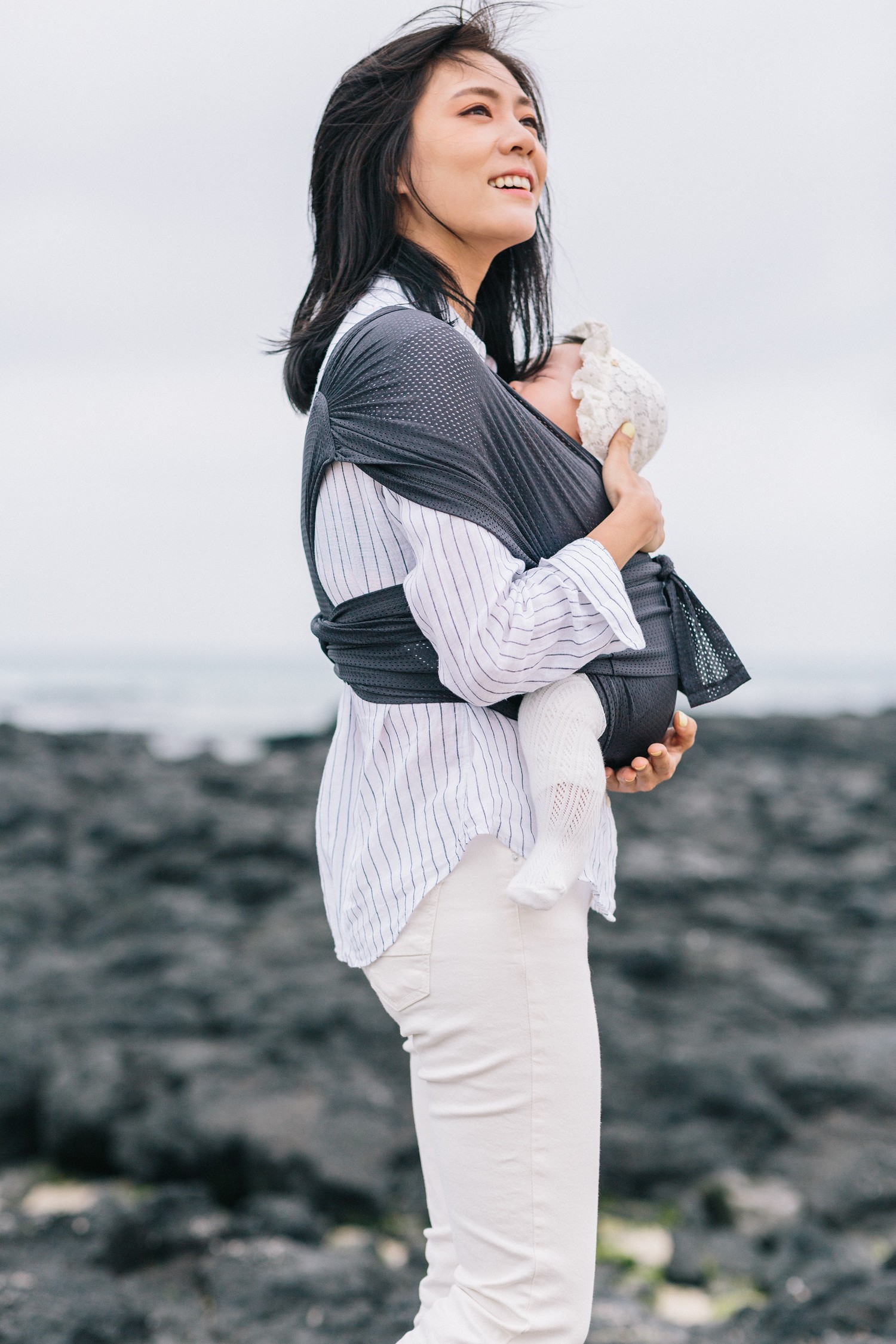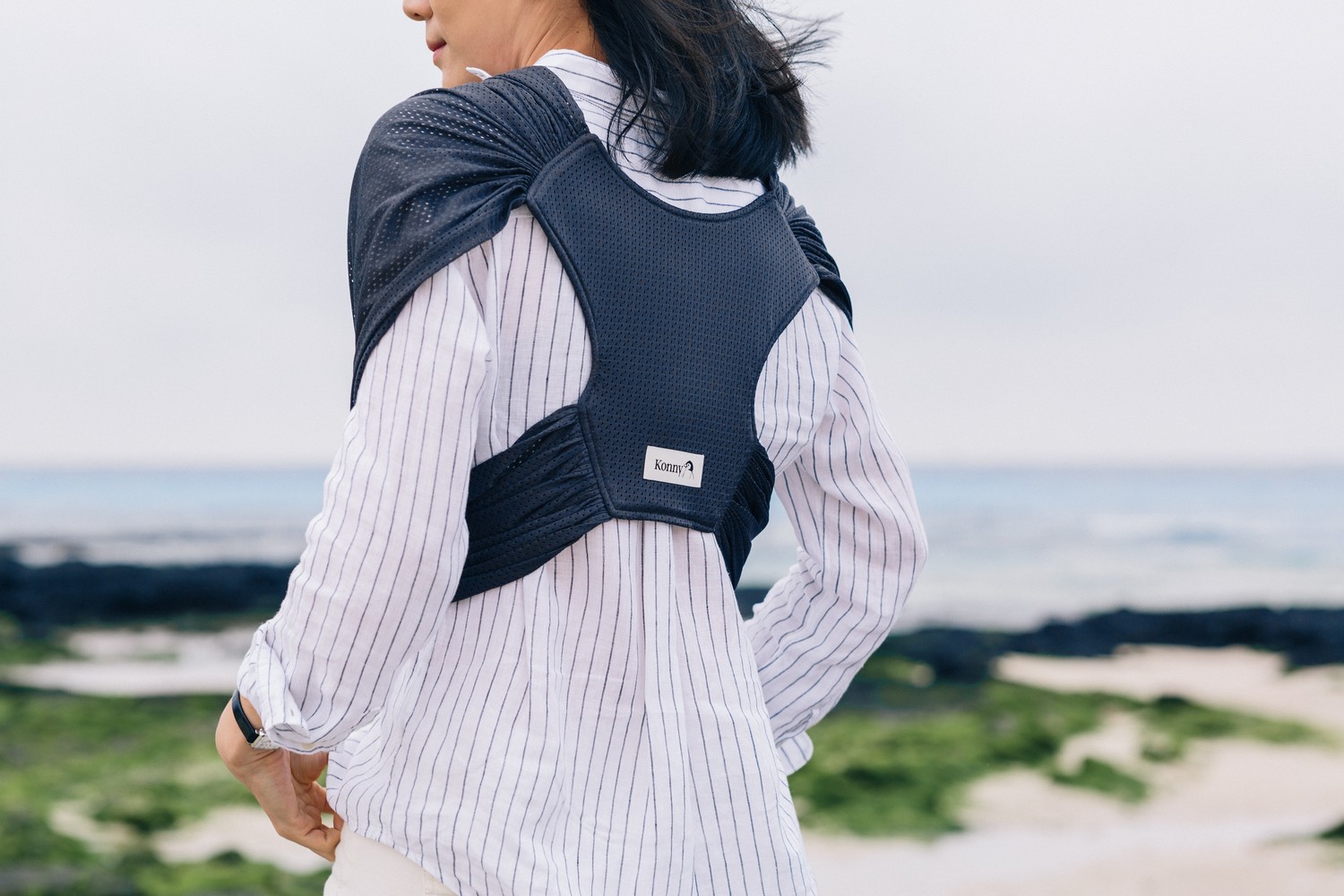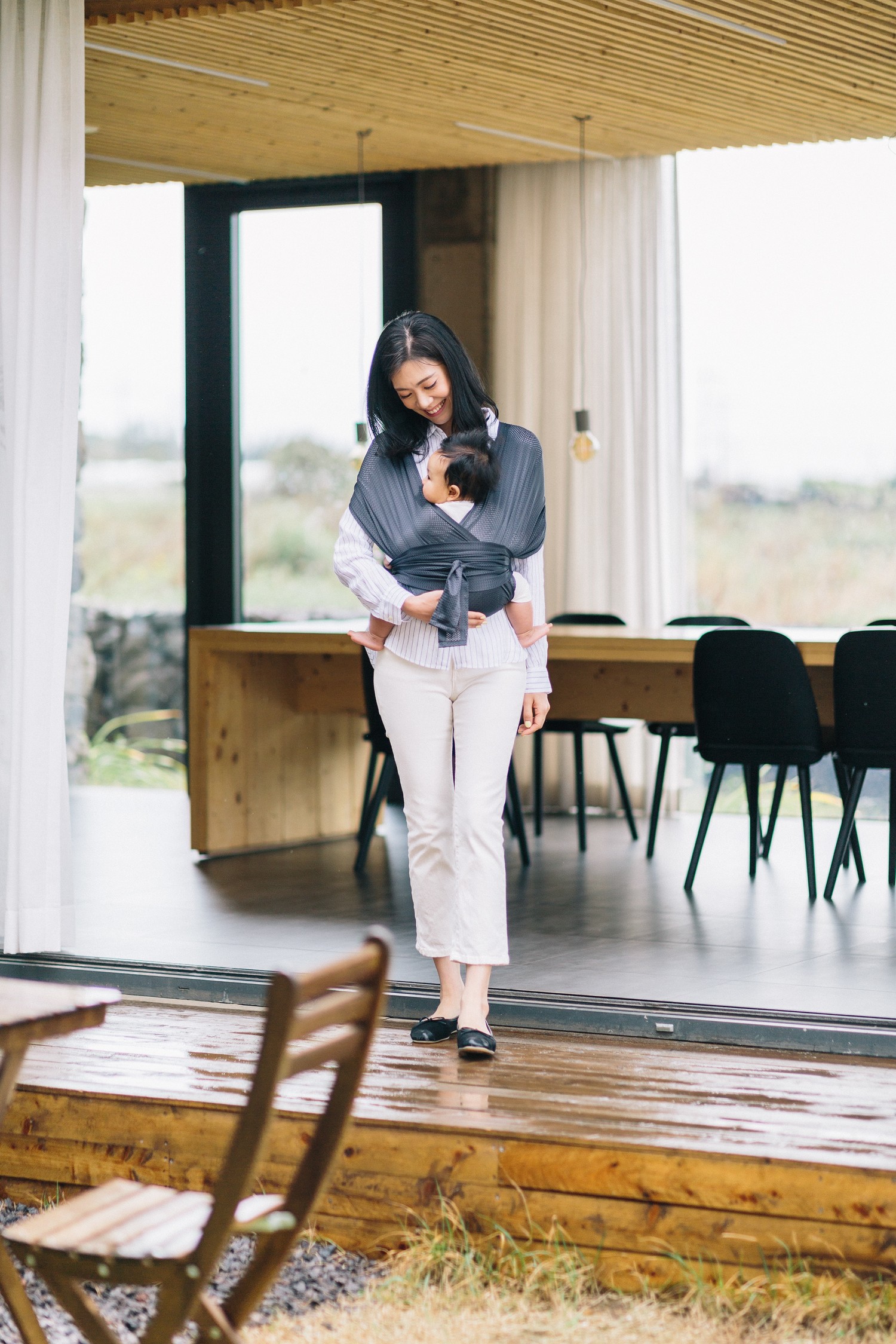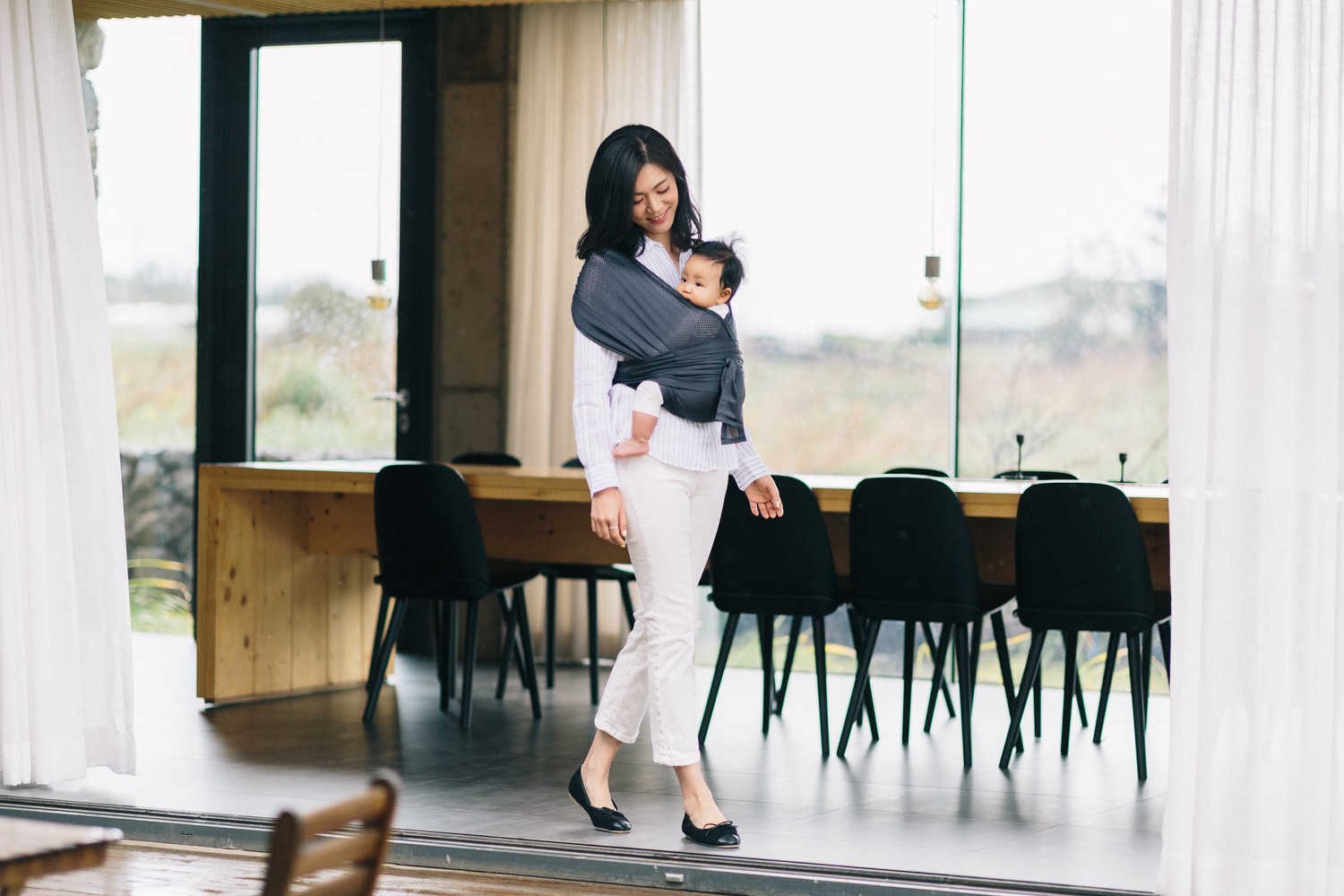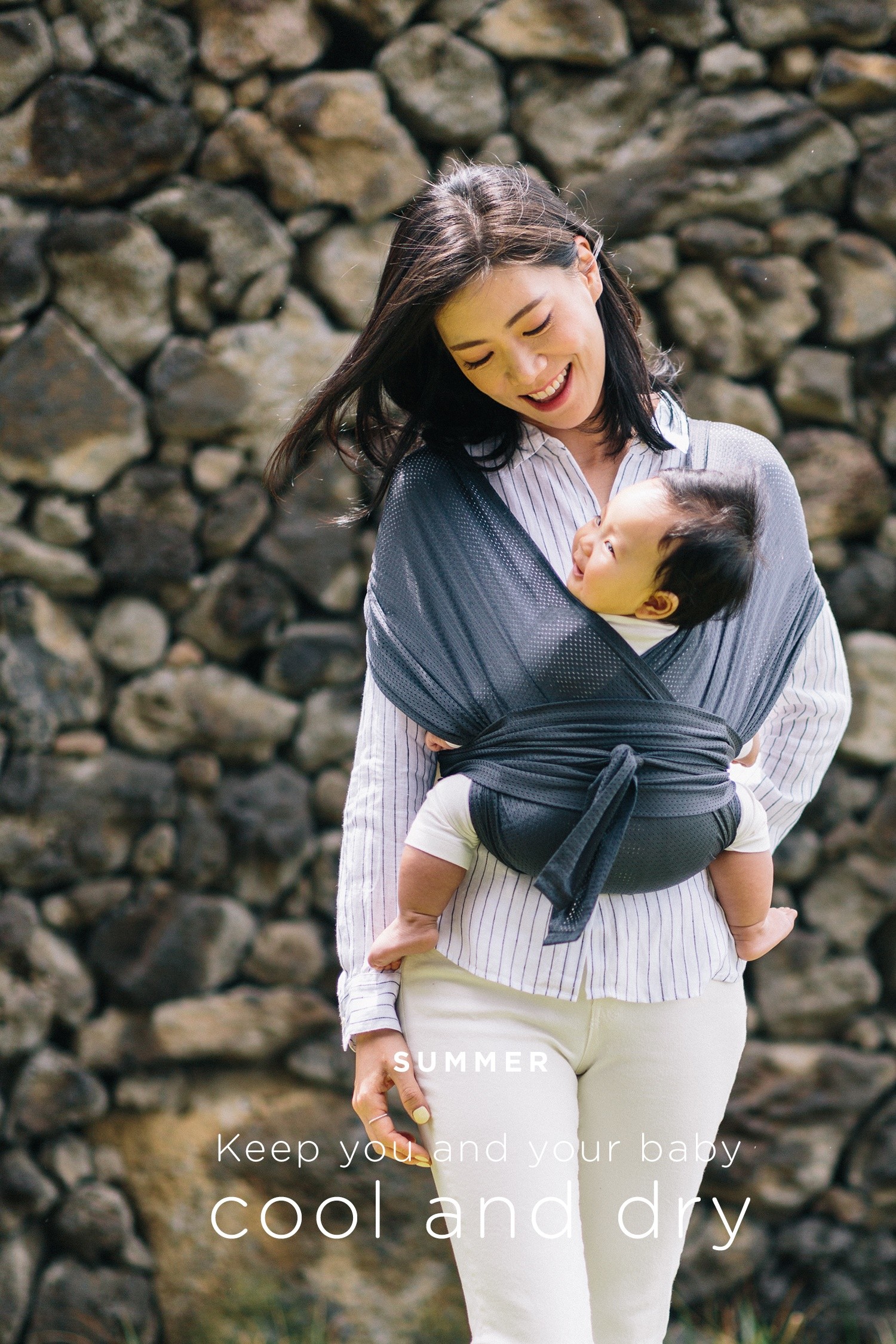 I hope every moment
you share with your baby this summer
becomes more pleasant.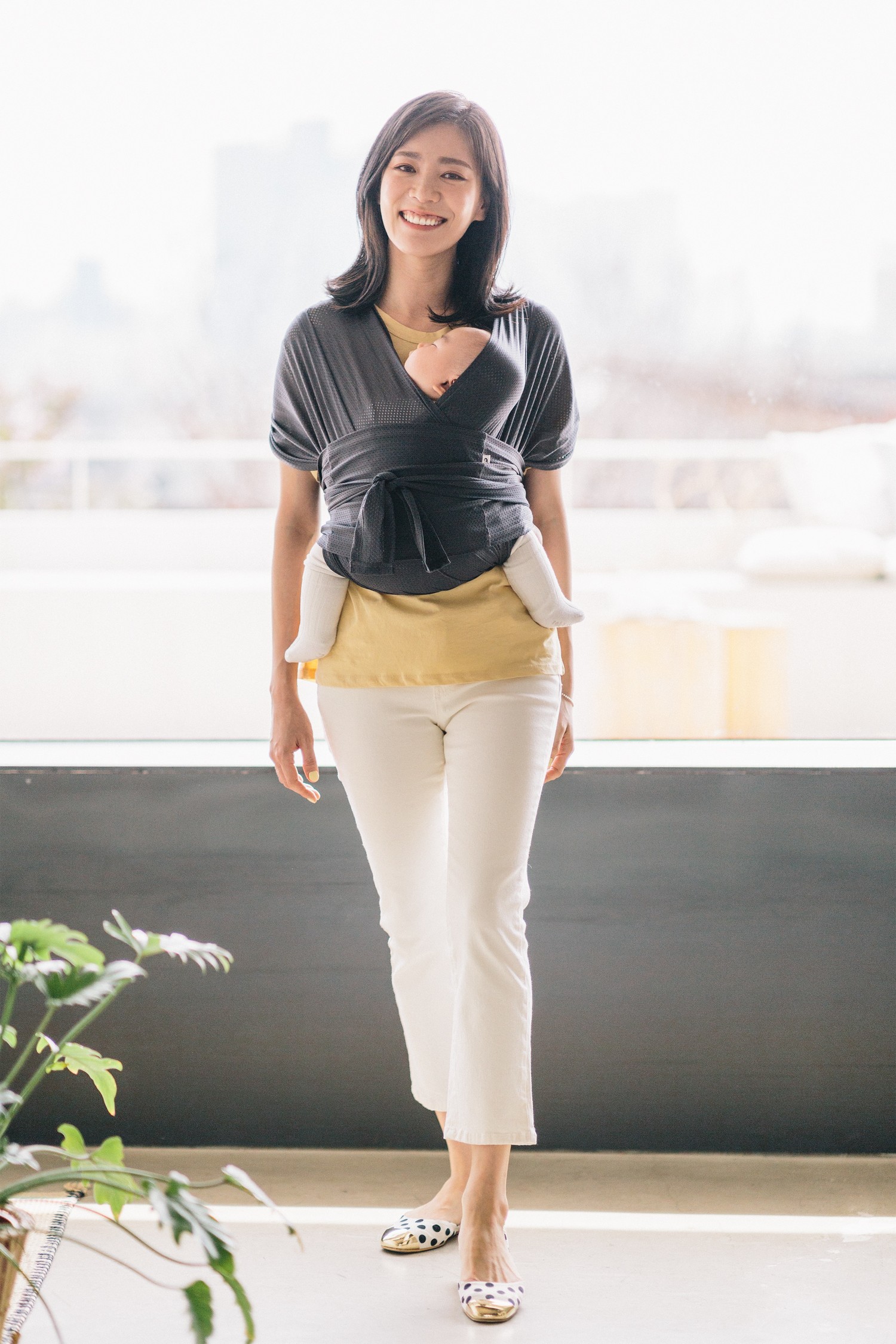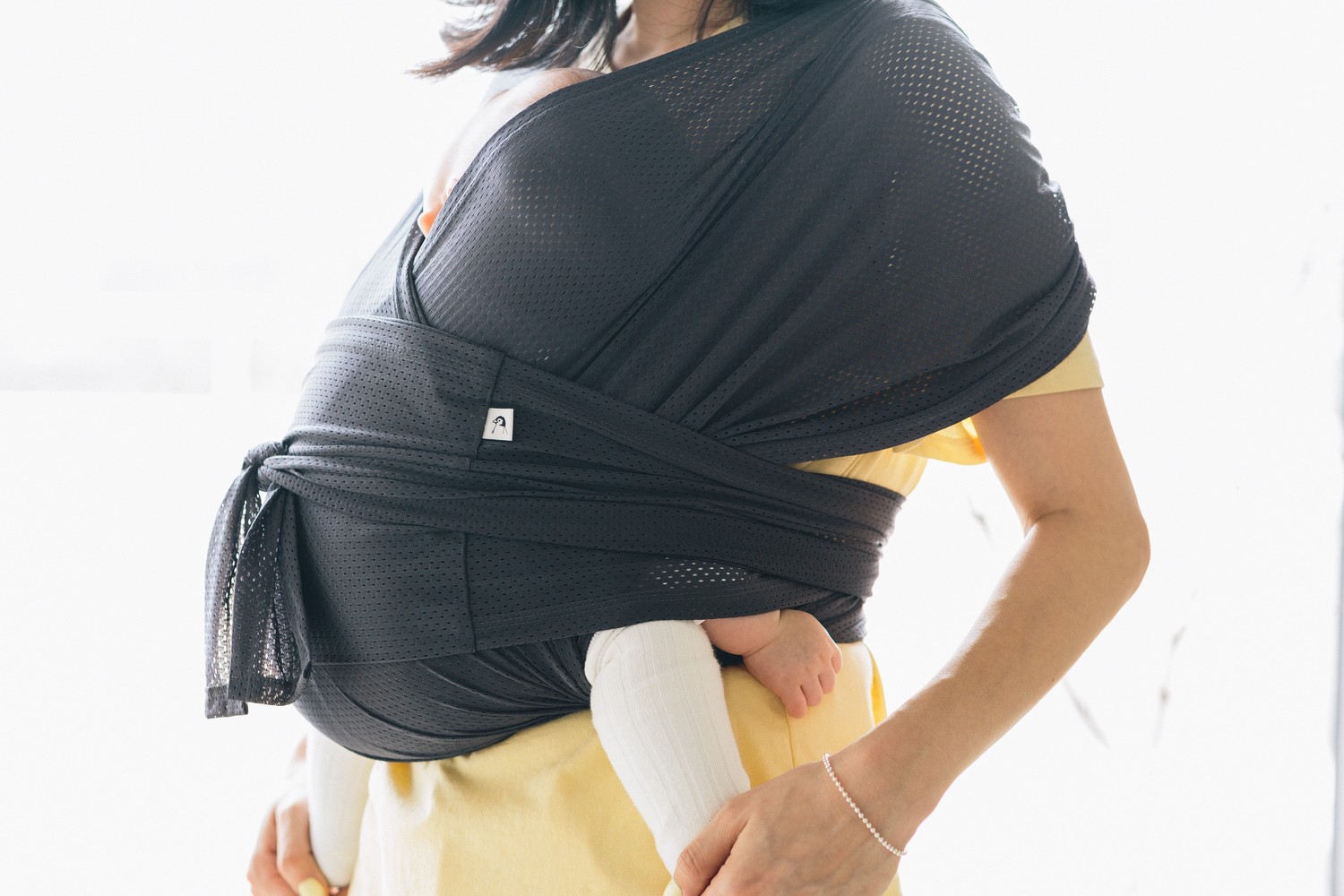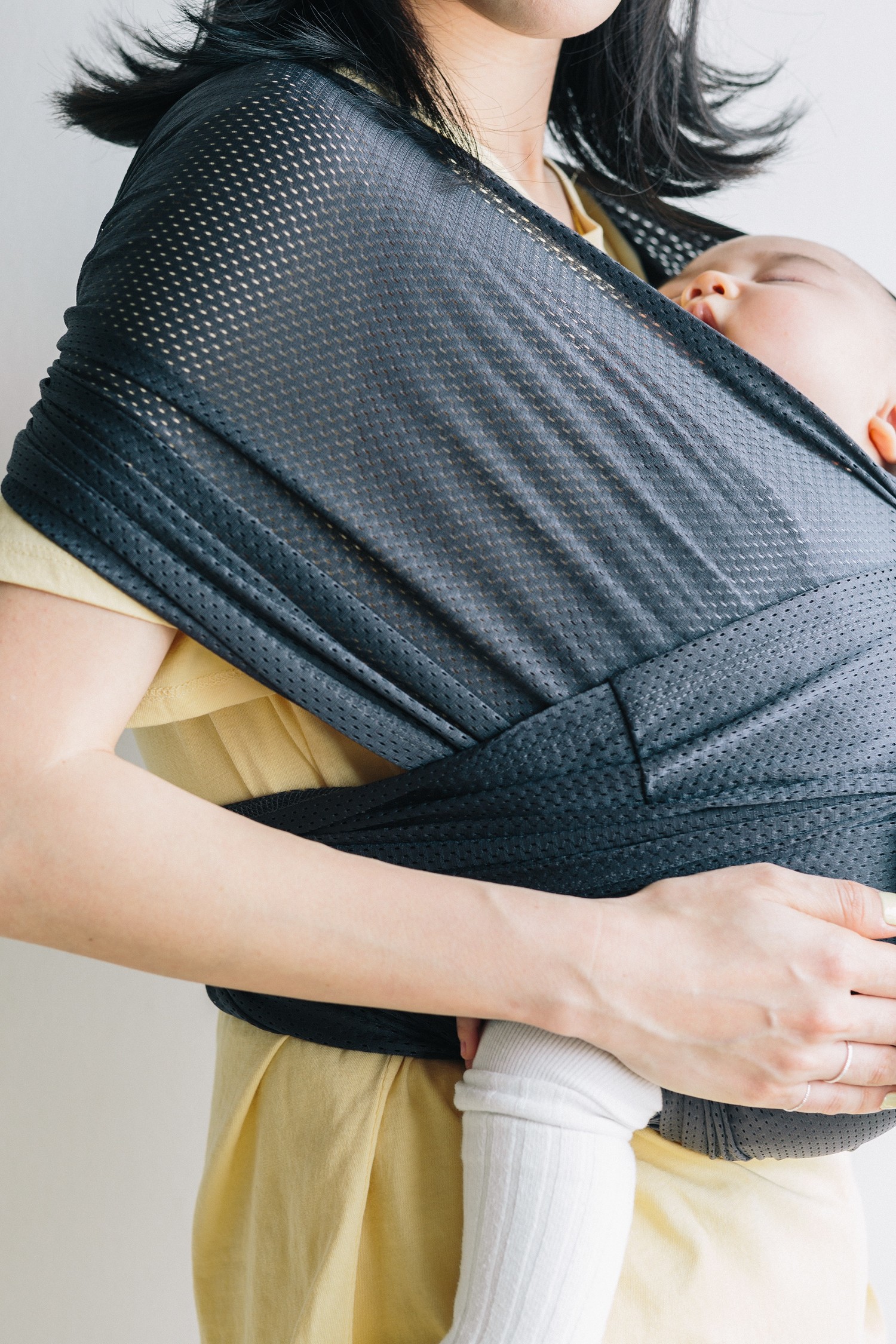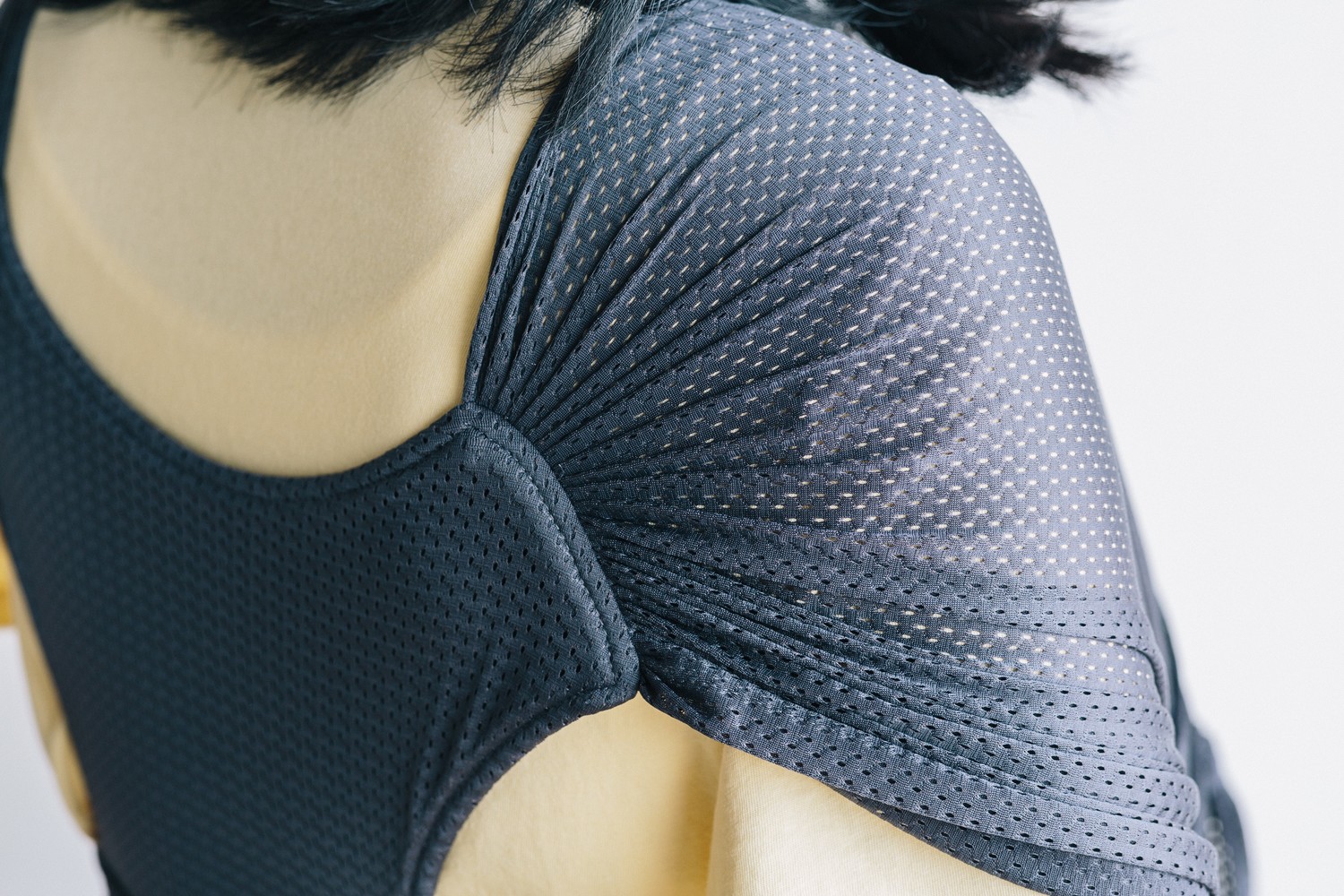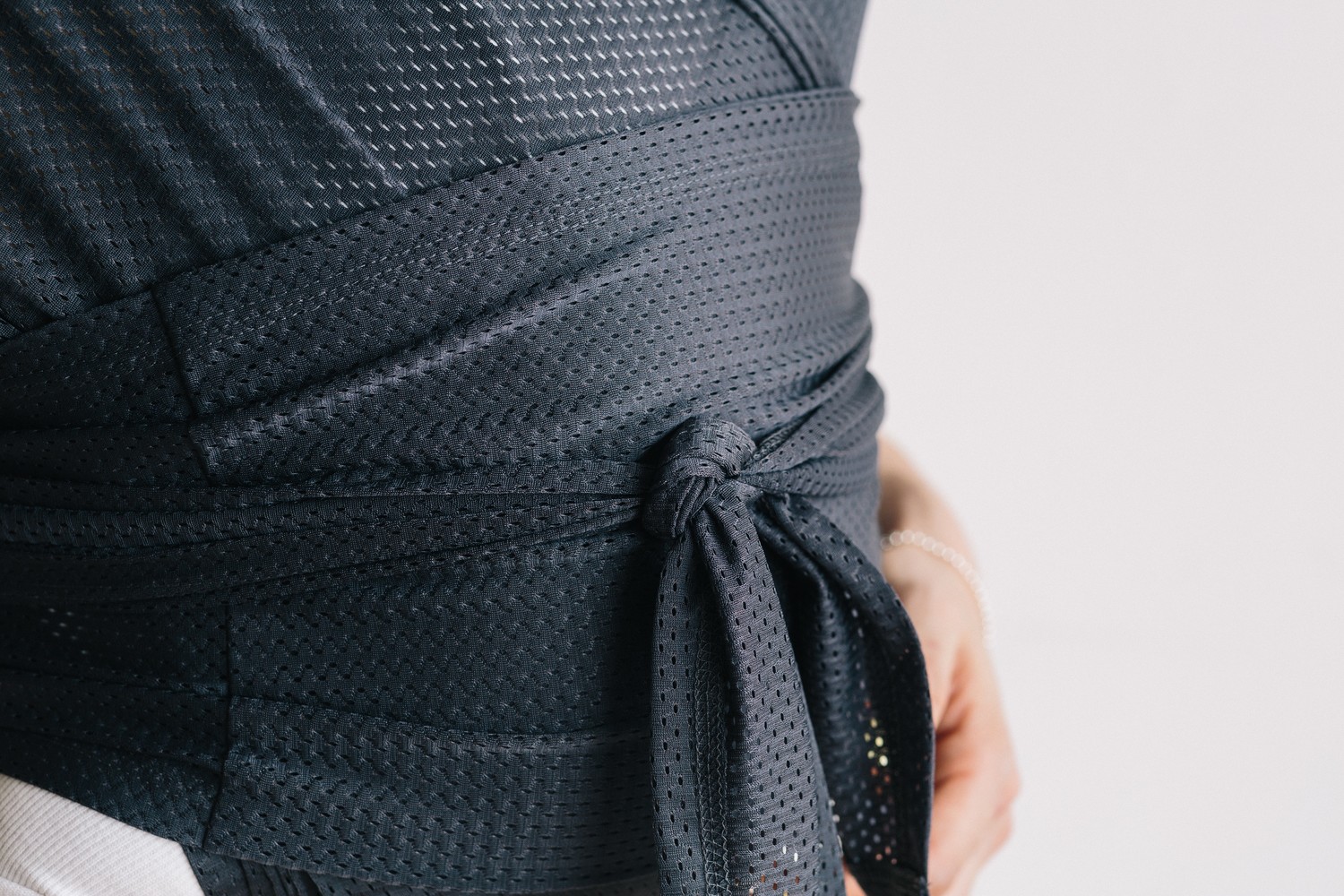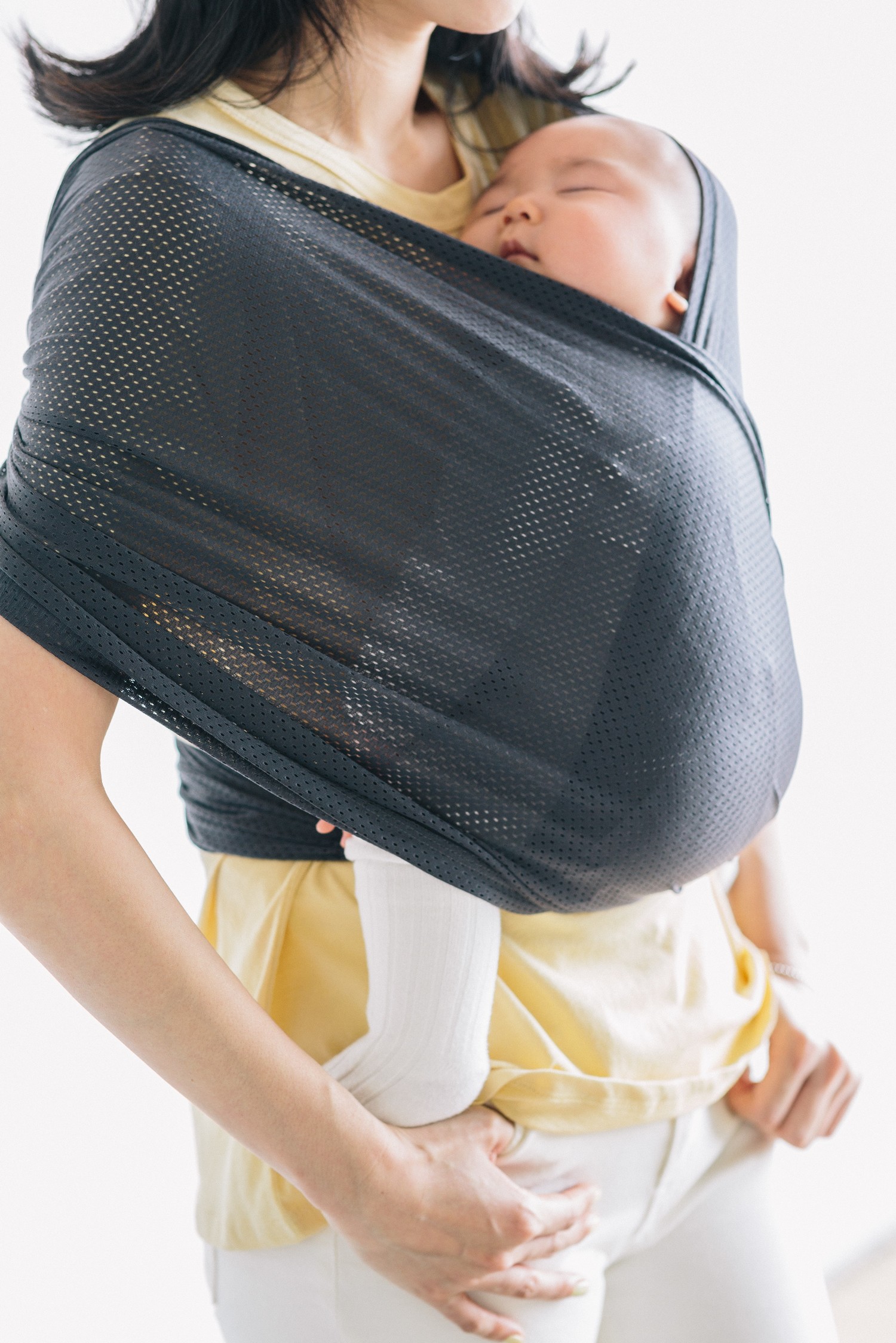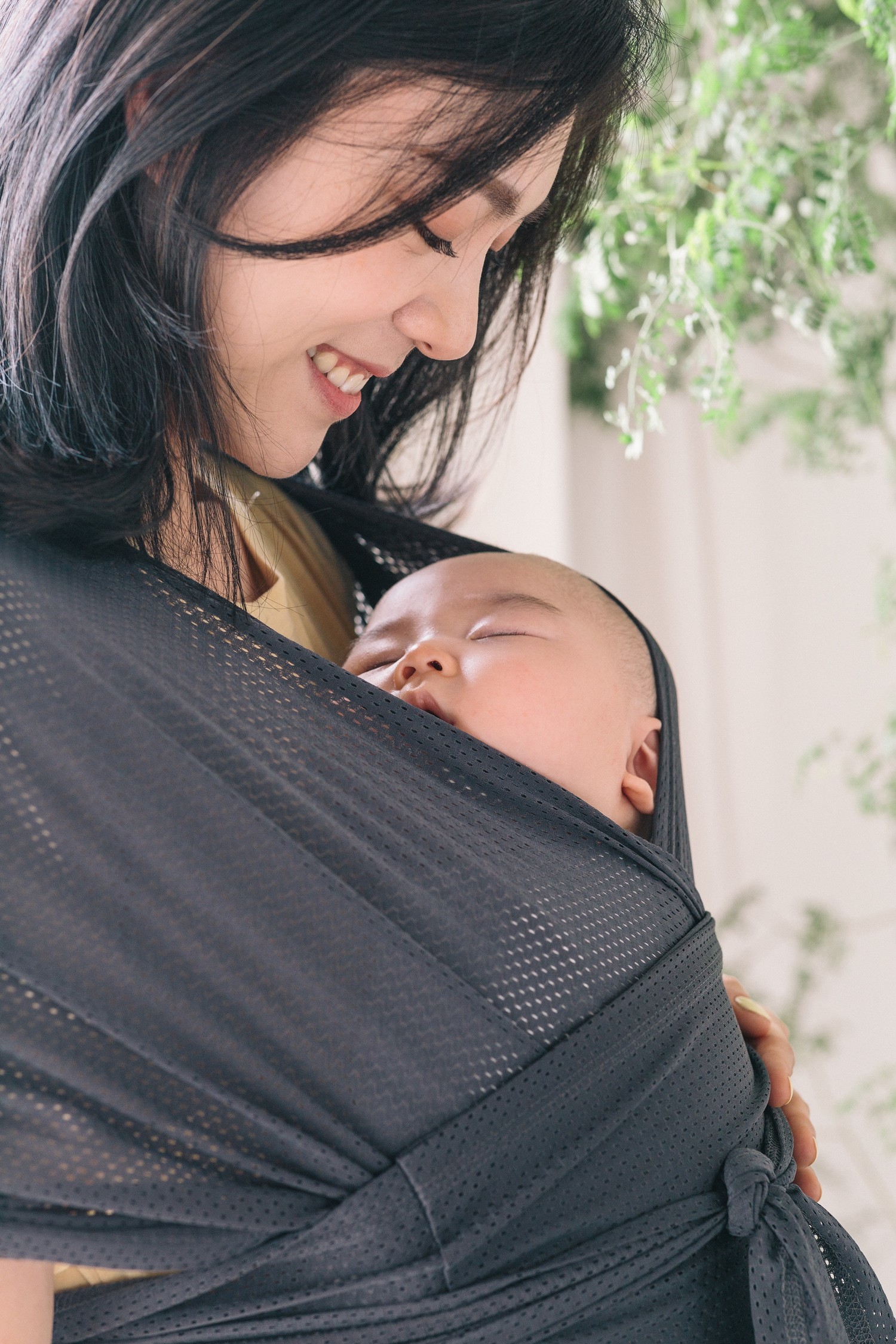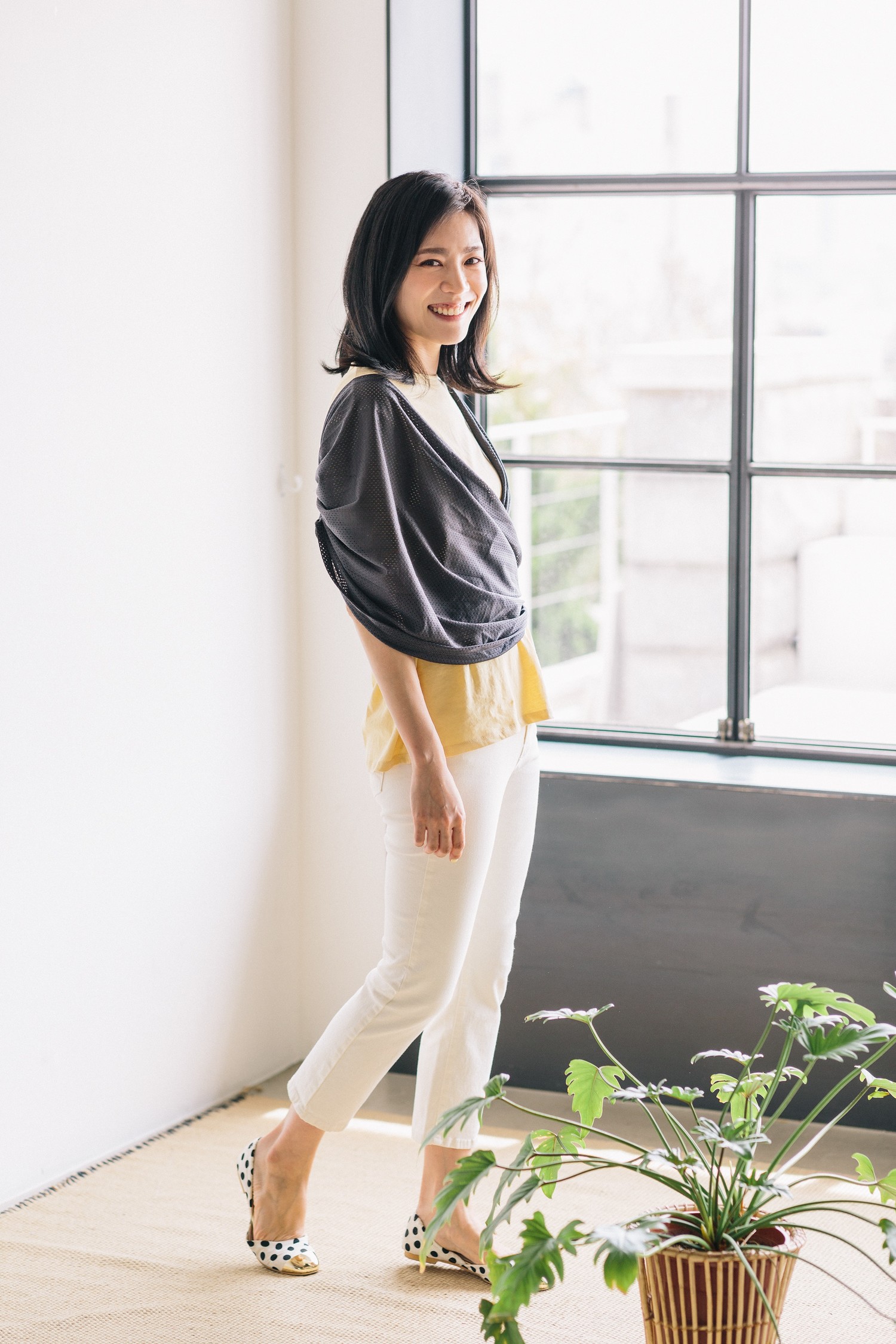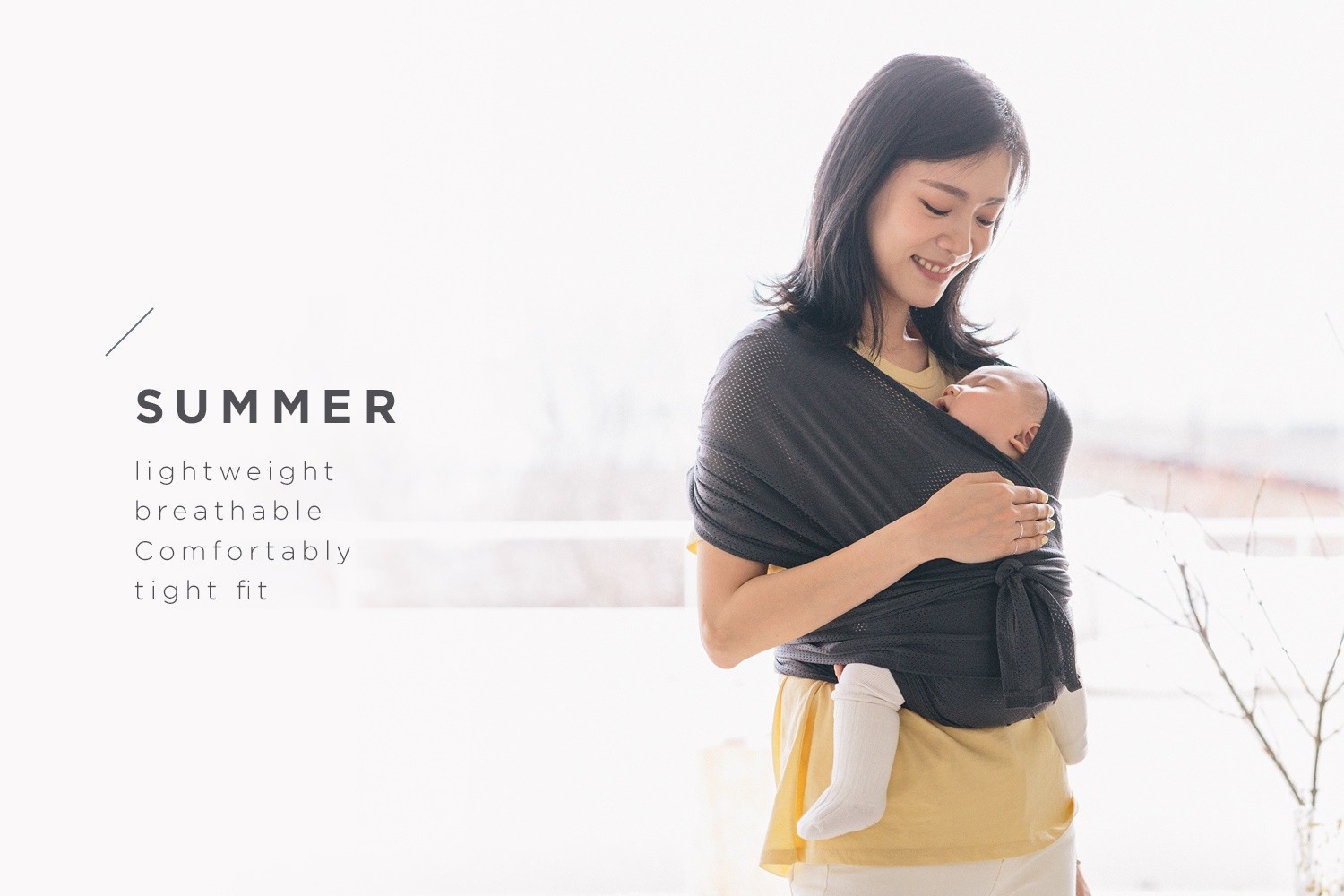 Shipment date is the next business day following the order date. Please be advised that orders placed on Fridays or before national holidays may require a few additional days before shipping. Kindly note that Konny operates based on KST, UTC+9.

※National Holidays in 2020: 1/24, 1/27, 4/15, 4/30, 5/1, 5/5, 9/30, 10/1, 10/2, 10/9, 12/25
---
Shipping Methods
Our primary courier is DHL which offers fast and trustworthy shipping services. It generally takes two to four business days for your order to be delivered.
Economy shipping takes ten to fifteen business days and it is available for the following countries;
Hong Kong, Indonesia, Malaysia, Philippines, Singapore, Taiwan, Thailand, the US, Vietnam
---
Order Tracking
Once your order has shipped, you will receive a confirmation e-mail with a tracking number. You can check the delivery status by entering the provided tracking number on the delivery couriers' websites.
---
Import Duties & Taxes
Orders shipped outside of Korea may be subject to import taxes, customs duties and fees levied by the destination country. Additional charges for customs clearance must be fulfilled by the recipient; Konny by Erin, Inc. has no control over these charges, nor can Konny by Erin predict what they may be.
Customs policies vary widely from country to country; you should contact your local customs office for more information. When customs clearance procedures are required, it can cause delays beyond our original delivery estimates.
Terms and conditions
All refunds and exchanges must be requested within 30 days. There are no additional fees for a return. However, customers have the financial responsibility for returns coming back to us. The shipping fee you paid for your order will not be refunded since the delivery service has been completed by the courier. For defective products, we will make a full refund.
Refunds will not be made in the following cases:
・Missing components (the baby carrier, outer sash, and eco-pouch)
・Worn, altered, or washed products
・Contaminated products
・Impurities like dusts found on the products
・Products in an unsellable condition
・NOTE! Returns that do not meet our requirements may be accepted at the discretion of Konny by Erin, Inc. and subject to a $10 return fee.
---
Special offer for an exchange order
If the carrier you purchased does not fit you correctly, do not hesitate to contact us. We offer free shipping to those who participate in a brief survey on sizing. Find us at the right bottom of this page.
NOTE! Customers have the financial responsibility for returns coming back to us.
---
How to initiate a return or exchange?
If you want to return your order, please follow the steps below. If you want to exchange, you will need to return the original product and place a new order.
Step 1. Fill out the return form here. (click!)
Step 2. Prepare the box for shipping.
Step 3. Ship your package using a trackable, insured shipping method. Konny by Erin, Inc. cannot accept responsibility for packages we do not ship. Please keep the tracking details for your records. 
You will receive an e-mail once your return has been processed. Please allow 5 business days from the time we receive your return for it to be processed.
---
Where do I send my return?
Please send your return to:
US and Canada
Address: 
7004 VAUGHN ROAD,
MONTGOMERY AL, USA
Postal Code: 36116
Name: Konny Returns
Tel: 334-730-5055
All other countries
Address: 
127 Jangmyeongsan-gil, 
Paju-si, Gyeonggi-do,
South Korea
Postal Code: 10864
Name: Konny Returns
Tel: 070-7864-0917 
---
Which courier should I use?
Customers have the financial responsibility for returns coming back to us. We strongly recommend using a traceable, insured shipping method in case of delay or loss. Please keep the tracking details for your records. 
---
When will I receive my refund?
The refund will be processed after your return passes inspection once arriving at our logistics center. Please allow up to five business days for the transaction to be reflected in your account. Refunds generally appear as credit amounts on the statement.
Height (cm or ft):
5 feet 8 inches
Weight (kg or lbs):
202 lbs
Fits small
It is a little tight for us and the summer material is not stretchy. I ordered and XL and wish I had ordered a 3XL. Otherwise I like it and the price was fair.
too tight
I brought two konny. According to the size guide,I brought size s. Unfortunately it was too tight for me. I can use it.
Lifesaver!
Being a mother is already hard as it is but to juggle between chores and taking care of a baby has it's own challenge. The Konny is basically a lifesaver as I can manoeuvre around the house hands free with my baby resting snugly in the Konny. The first time I've ever tried the Konny, baby fell right asleep in it that proves how comfortable the carrier is and baby agrees! Would definitely purchase the regular one as I currently bought the summer version for a hot climate country.
Weight (kg or lbs):
150 lbs
Not true to size !!
I followed the size guide which recommended a medium and I even went a size up and it's still so small. I am 5'9 and 150 lbs and I got a large just hoping maybe my husband I could share it The only good thing I can say is the customer service is amazing so that's a huge plus.
Sincere apologies for the inconvenience caused. Our size calculator utilizes a database built with real customer data, and we continue to optimize it to provide the best sizing recommendation. However, since each person has a different figure, some people may not fit into the suggested size. We will continue to improve our sizing guidance process to satisfy our customers. You can of course exchange the size. Please allow us to assist you in finding the best Konny size. I will reach out to you shortly.
Amazing carrier which eases mama life
My baby always cries and needs to be held all times. My hands are in pain and I decided to get a carrier which could calm my baby and relieve my hand pain due to holding too much. I chose the summer style which fits my hot baby (and myself) and my baby could put to sleep much much easier! I found it really amazing that I recommend it to my mama friends as well! Thanks konny which makes my life easier and less pain 😊
Height (cm or ft):
5 ft 4
Weight (kg or lbs):
pre pregnancy 129 (5 days post partum 144)
Perfect for my newborn
I'm a second time mom and have several wraps and carriers.
I decided to get this carrier because I tend to have babies on the smaller side and most carriers with infant insert start at 7 pounds. I found that I was always worried that the wraps would untie.
At 5 days PP I was able to use the Konny for walks with my lil guy (5 lbs 15 oz) and do activities with my toddler while not having to worry about the wrap untying.
Second konny purchase!!
My first konny purchase was a charcoal grey summer konny because I live in a really warm tropical country. My baby and I still perspired when using it to walk fairly long distances. I loved it so much because of the easiness and simplicity that I decided to try the summer cream color to see if it was better. It is slightly better at temperature management but I think it is just normal for babies to sweat! He goes to sleep in it within a couple of minutes and we are still working on getting him out and transferring him to bed without waking him. This has worked for the recent spate of evening fussiness because I pop him in and head out to our local park for a walk to calm him down.
Previously, I tried using Tula and Babysafe but neither worked out for me because either I'm too petite or it was way too complicated for it to get comfortable.
Konny works out really well for me and my husband now wants to try one too!
Weight (kg or lbs):
154 lbs
A great carrier
I had tried two other brands of carriers and neither worked for my body type for my son to fit comfortably inside the carrier, they were too hot and difficult to get just right. The Konny Summer Carrier is perfect, no guesswork, just nestle him in and we're both happy and never too hot!
Easiest Carrier Out There
I have tried a few baby carriers to spend more time with my infant around the house. My goal was "something easy". After getting frustrated with previous carriers I decided to try the Konny recommendation from a friend. I absolutely love it! You slip it on like a t-shirt then tie a piece like a belt around you for additional support. It is very intuitive and easy to secure. My only criticism is the recommendation to move up with a larger chest if in a size that overlaps two Konny sizes. I am breastfeeding and wear a size D bra, so I sized up according to the recommendation but the Konny feels a little too big. Wish I had chosen the smaller size. Will be recommending to pregnant mama friends!
Useful carrier
The best carrier ever. My girl able to sleep in it and it help my backbone problem. I dont feel pain at my backbone while carrying my girl. Not forgetting the fast delivery. I get on the 2nd day after i placed the order.